25 Comments
Sony's low-budget S35mm-frame-sized NEX-FS100 camcorder announced – my thoughts & video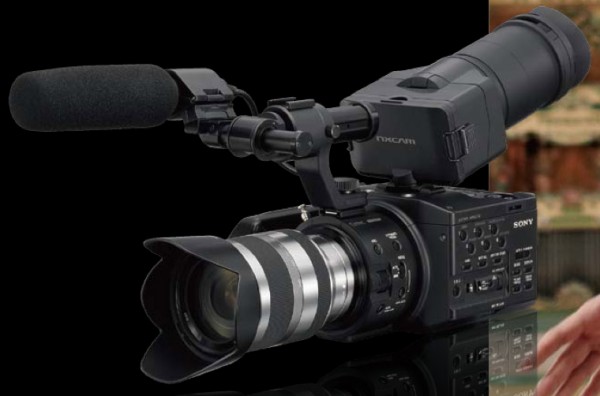 After lots of rumors that have been going on for months, Sony has today announced its entry-level S35mm-frame-sized camcorder, called the NEX-FS100.
It has a pretty awesome form factor if you ask me, and reminds me a lot of a RED Epic with its LCD on top. It's much more compact than Panasonic's AG-AF100 / AF101, which is designed like Panasonic's traditional DVX100/HVX200/etc. form factors that we've gotten used to over the years. The NEX-FS100 really seems to incorporate one of DSLR's biggest advantages: a small footprint, which allows you to go places other cameras have no access to. And I think it is also still possible to shoot inconspicuously, which is impossible with the AF100, but pretty essential if you are doing documentaries or other stuff in certain places where you are not supposed to shoot.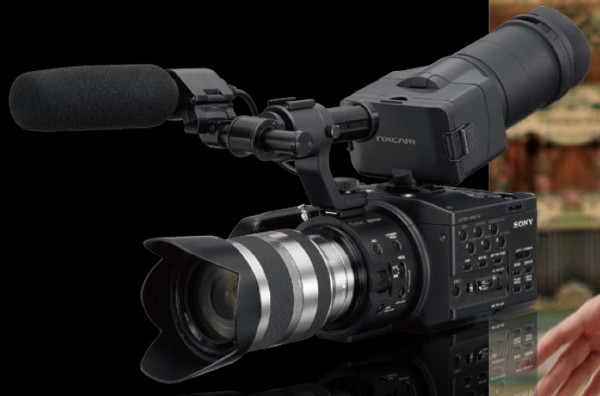 The best thing about is its S35mm-sized sensor, according to Den Lennie the same one found in its big brother, the Sony PMW-F3 (I've fiddled with that one before and will post my thoughts on it soon too). Check out the official brochure, here's the PDF.
This sensor is the same size as a traditional S35mm film frame, so it gives you the exact same DoF features as "real" film cameras. The micro 4/3rd chip found in the Panasonic AF-100/101 is pretty great too, but a tad bit smaller (about 10%), resulting in a larger crop factor of 2x (relative to full-frame 35mm photo sensors like the Canon 5Dmk2). The size of Sony's imager is closer to Canon's APS-C sensors, found in the 7D, 60D, T2i/550D and T3i/600D.
Apart from being a really neat little package, the NEX-FS100 obviously features all the bells and whistles we're used to from larger camcorders: 2 XLR inputs with optional phantom power, switchable frame rates (apparently up to 60p at 1080p, which is bloody good and seems to become the new standard on new camcorders), zebra, peaking, auto focus (yikes – don't use it), rec review, … (it seems to be missing an ND filter wheel though, which is a shame).
Now, it records in Sony's version of the AVCHD codec at a maximum of 28 MBit per second, which might not sound much, but is enough for many applications. Modern codecs like this (or the XDCAM EX codec at 35MBit per second) are very efficient and actually often offer more detail than codecs that were not meant to be used for recording in the first place (like the H.264 used by Canon in its DSLRs that still needs to be converted before we start editing in, say, Final Cut Pro 7). The NEX-FS100 can record on SDHC and Memory Sticks – it's great to see Sony is slowly moving away from Memory Sticks as there is absolutely no point in having a separate standard all the time (yeah, I know, it's always been a Sony thing to do that … think BetaMax, Atrac-3, MiniDisk … shall I go on?).
Now there is no HD-SDI (like the dual-link HD-SDI featured on the F3), but 4:2:2 HDMI output, which is great, because it allows you to hook up a separate recorder like a Nanoflash, KiPro (mini) or Atomos Ninja and record in a better codec (higher bitrate) and the 4:2:2 color space, which opens up new possibilities in post production (which we don't have with most DSLRs) and should also satisfy most broadcast stations – they are traditionally picky about such things.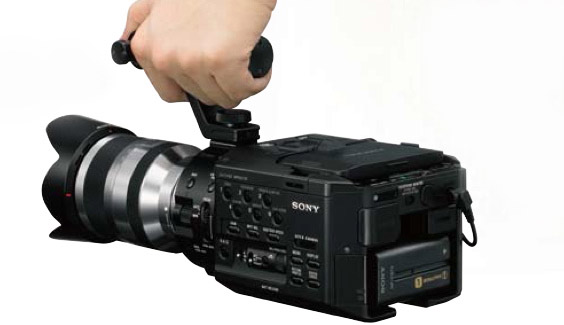 Image quality & world's first video
Now, the most important part: What do the images look like? I've tried the Sony PMW-F3 and I loved its images, while I thought it is overpriced. Actually, I loved them a lot, almost as much as the images from a Canon 5D Mark II, and I think that means a lot, because this camera for me still carries the "shallow depth of field crown". Now, the NEX-FS100 seems to have the same imager, or a very similar one, and it shows. Check out F-Stop Academy's world-exclusive preview video of the NEX-FS100 right below, with a detailed description of the camera by Den Lennie, followed by a promo music video they shot within 36 hours with the new camera. Pretty impressive indeed.
Here's just the music video:

Do check out F-Stop Academy's great blog on it too, and also their new website – there is a lot of valuable information on their site, definitely worth visiting regularly!
World's first review
You can find more details a world's first full review of the camera by Nigel Cooper on DVuser.co.uk, who tested it thoroughly (a pre-production version, I might add), and felt in conclusion that it was a somewhat "rushed product" and gave it only 2 out of 5 stars. I feel obliged to add that he seems to come from a different point of view and compare it to professional camcorders much more than many people used to using DSLRs might ever do. I would take his review with a grain of salt until I get my own hands on it.
He might be right about it being a bit rushed though – it sounds a bit strange that it will only become available starting in July (though that might also be due to export/production troubles in Japan right now, they have more important stuff to deal with currently). Anyway, it somehow sounds like Sony wants to position a competitor to the Panasonic AF100 in the market before everybody has bought one, and understandably so.
By the way, no word about pricing yet, Den Lennie told us he estimates it to be around $5.800, crews.tv estimates $4.500. We shall see – I hope Sony places is competitively against the AF100, but I fear they might add their traditional "Sony bonus" in the end again.
Here's the official Sony Europe video:

(By the way: Don't get me wrong, I'm a huge fan of Sony Professional products – but I have had my share of troubles with the "support" side of the company last year when their firmware update bricked my EX3, which took them 6 months (!!) to repair and cost me a fortune in repair costs and also replacement costs … that's what you get for having the expensive "Silver Support", which is supposed to pick up a defective camera and give you replacement. Obviously not when their own firmware update fails on you. Anyway, don't get me started on that story again … Sony really has to make it up to me to ever convince me to buy a Sony professional product again.)

UPDATE: New footage from the NEX-FS100