13 Comments
CamDolly received – one to give away (!) at the Majorca HDSLR/AF101 Masterclass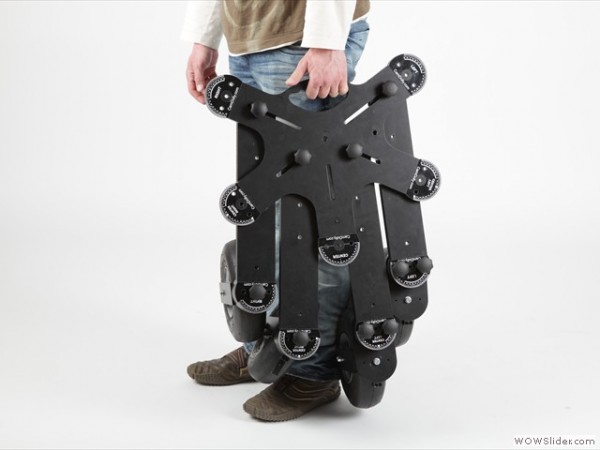 A few weeks back I was put in touch with Matjaž Hrovat (aka "Met"), a chap from Slovenia, through a mutual contact on Facebook (Mike Chenoweth). Met said he was impressed with my filmmaking work and reviews on the blog, and asked me if I was interested into looking at a new and very versatile dolly system that he was working on.
I said sure, and shortly after, he sent me a series of (still unofficial) videos where he demonstrated his "CamDolly v2" in prototype stadium. I can say safely that I was completely blown away by the possibilities I saw when I watched the videos the first time.
Now I've been working with dollies for quite a while now. At larger shoots, either as producer or "only" DP, I hire a Panther dolly – they are awesome, but they are expensive to rent, large and heavy, and a particular pain in the behind to transport (you need a trailer or even truck).
CamDolly is significantly different. As you can see below, it can be put together in a variety of configurations: You can use the metal base as a slider with the camera attached, you can use it with a tripod only, with the handle attached, or as a full-on dolly with seat. The included wheel configurations also open up all sorts of possibilities: skateboard wheels for a very stable tube dolly configuration, large wheels for more bumpy terrain or ground where you just can't use the tubes, inline skate wheels for the smallest configurations or the slider … and so on. It seems like a do-all dolly.
I met Met (ha!) this past weekend in Graz, where I once again attended Diagonale – the Festival of Austrian film. He drove in from Slovenia to personally hand me the prototype of his CamDolly v2 for review and explain a few things over drinks. After having been in contact with him for weeks now, I can safely say that this guy absolutely knows what he is talking about. I witnessed the final steps of production over the past few weeks and I can tell that he is going to extra mile to make this product super-awesome. He's using my feedback to further enhance the production units that are scheduled to go on sale early April, when he will also have the website up and running.
I will use the dolly on a shoot this week and give Met feedback so he can further enhance the product. Full review will follow as soon as it's completely done and the production version is availalble. I can't tell you the exact pricing yet as they are currently working that out – but I can safely say that compared to other dollies, pricing will this will be VERY attractive and for the first time, people will be able to actually own a dolly themselves.
Majorca HDSLR/AF101 Masterclass attendees can win a CamDolly v2!
To introduce the new product, Met agreed to send one to our Majorca HDSLR/AF101 Masterclass with Philip Bloom, Sebastian Wiegärtner & me to be used during the workshop by the attendees. This will be awesome as it opens up lots of new opportunities for our attendees to be used along with all the other gear we will bring to the island.
But that's not all … Met amazingly offered to donate a CamDolly v2 to our attendees! That means that one of our attendees (there will be a maximum of 30) will be able to win the CamDolly right there in a random draw, and take it home with him/herself (will only be required to pay for shipping home themselves).
This is a HUGE value and we are very thankful to Met for this amazing offer to our attendees.
We withheld a small handful of spaces for the Masterclass after we announce this, they can be booked now on the official Masterclass website via paying the PayPal deposit.
Apart from learning a boatload about DSLRs cinematography from Philip Bloom, Sebastian & me, having a great time in one of the most beautiful places on earth, you will have a 30:1 chance to win this versatile piece of equipment that is worth several thousand Euros.
What else can you expect from an extended weekend in the sun? 🙂