87 Comments
It's not about the gear. Learn from a 17-year-old.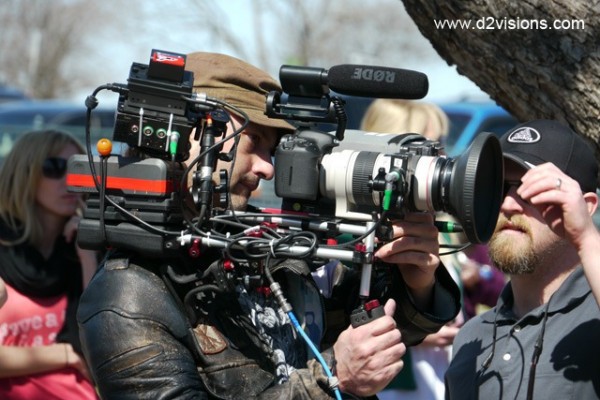 As readers of my blog, most of you probably discovered this site because of all the gear reviews I have been doing so far, or some samples of the work I did (check the "My Work" section above). Many of you are first-time filmmakers looking for all kinds of valuable information with regards to DSLR filmmaking. It has been called a revolution by many, and I am one of them, because the "film look" is as easily accessible as it has never been before in filmmaking history. It has truly democratized the filmmaking process.
Expensive filmmaking gear used to differentiate some filmmakers from others. There were (and still are) many filmmakers who think that the very fact that they own a lot of expensive gear makes them great filmmakers. Somehow, I think this is some kind of genetic predisposition that especially men seem to share. I guess that's the 'pack rat' instinct that we all share, who knows.
The satirical Facebook fan page "My Mom bought me a RED camera so now I'm a DP" helps to look at our very own urge to always own the latest and greatest gear in an ironic way.
In short, a lot of filmmakers hide behind their gear. It somehow relieves them from the thought that they need to make FILMS in order to become great filmmakers. Making films is A LOT of work. It's too much work for many self-proclaimed 'filmmakers'.
[If you think about it, it's quite strange: We are all happy that we can shoot incredible-looking images with our very inexpensive DSLRs. On the other hand, we strive to spend more and more money on pimping out these cameras, which makes us lose many of the advantages we gained with their form factor in the first place.]
Anyway, every once in a while, it's good to take a step back and look at what really matters. If you shoot a great film, it's great because of its content. Nobody will ask you what it was shot on. That is, nobody beyond our tiny circle of filmmakers who want to learn from each other. But we are not the core audience in 99 out of 100 cases. Other people are – people who don't know a thing about filmmaking. They just don't care. (Compare this: I also don't care where an apple grew as long as it tastes good – maybe I should care, but in fact I really don't.)

Today I came across one example of a great little film that became quite a viral success only during the last few weeks. It's called
"To Claire; From Sonny"
and was made by a 17-year-old filmmaker from Australia, some of his friends and with an inexpensive DSLR camera (7D, but it's irrelevant). He has film as a course in high school.
The short film is about the protagonist Sonny, who reads out a letter to his lost love off-camera. He directed and wrote the film, and also composed the music.
Partly through the director Josh Beattie's talent, partly through luck, the short film was somehow discovered a few days ago by the blogosphere and has since become a viral hit with more than 400,000 views.
I think it's a very decent film for such an endeavor, albeit a bit "cheesy" at times with all the off-camera narration. But you know what: That doesn't matter. People love it.
The really great thing about it is the fact that it gained him a €58,000 scholarship for a private film school in Queensland.
Some interesting (translated) quotes from Beattie's interview with the German news magazine Der Spiegel:
Spiegel Online: Do your teachers know that your film is such a success online?

Beattie: Yes. They wanted me to take it offline at all costs. Simply because when it's on YouTube, the film cannot be entered into several film festivals. But I think it's more important that many people on the internet discover it. If they like the short film, this is worth much more than when it rods in a drawer and possibly wins a shiny price.
I couldn't agree more with him. I know of many people who have done absolutely terrific work with short films and really everybody should see them – but they decided to keep them offline, because they don't want to see their possibilities of entering it into film festivals jeopardized.
Let me say one thing about film festivals: They are great for exposure and publicity, but only a tiny amount of festivals really deliver on their promises of getting you that kind of exposure you're hoping for. There are far too many out there, but that's only one reason why their importance is dwindling. While personal contact with audiences can't be replaced by anything, especially for short films the Internet has become a great haven for fresh talent and innovative ideas that are easily overlooked by juries that think in "old industry" or "old content" terms.
I know what I'm talking about as I have had several of my productions in festivals around the world. With my 2007 documentary "Every Step You Take", I managed to get into 14 film festivals from Brazil to Europe and California … it was a great time and made the film relatively known in certain filmmaking circles, but in the end didn't really do much for its overall "fame" with the "masses". I haven't been able to put it online yet because it's out for TV distribution, but that is something that short films can hardly achieve. Do you know many TV channels that screen unformatted short films? Exactly – that's why I think Josh Beattie made the right choice here by putting it on the Internet. Film festivals could have only done so much for him, short films are often only screened in a row with several others, while the audience already forgets the one they have just seen when a new short film is starting.
Let me close this blog post with another quote from the interview:
Spiegel Online: So you don't really need expensive equipment to produce a successful short film?

Beattie: No. When somebody wants to become an artist and fears the big, wide world, then he should know that nothing can stop him. We believe far too often that we are dependent on the rich guy in a suit who discovers our talent. That's simply not true. In case I ever make a career in filmmaking, I can look back at how it all began: with a simple camera, a laptop, my friends and a lot of enthusiasm.
I have nothing to add to that.
[To my American friends: I think that was my belated Thanksgiving post :-)]