One Comment
Sony FS7 Review – Climbing the Cathedral
On

December 22, 2014

http://www.ninofilm.net
This post was first published on the sister site cinema5D – head over there to read and watch camera and accessory reviews on a regular basis!
When I had a chance to check out a very early model of the new Sony FS7 in an exclusive hands-on in London in August (we reported about it before with the hands-on video – click here), I already knew that this camera had the potential to shake up the industry significantly. F5-like quality at half the price, built-in professional 4K (XAVC codec) in a professional shoulder-mount camera for much less than the still extremely popular Canon C300 (still one of my favourite cameras) – in one word: impressive.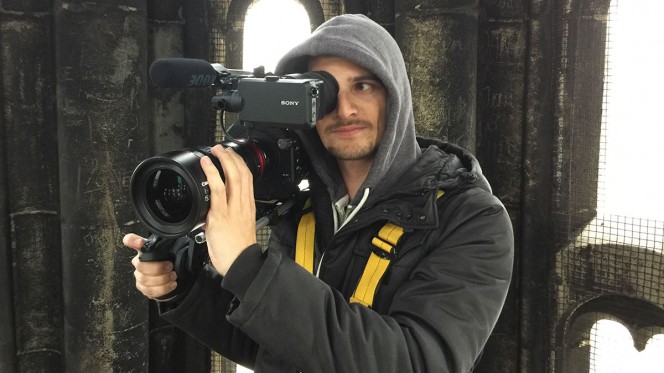 A few months later, after it has been officially introduced at IBC in Amsterdam in September, Sony has started shipping the camera and was kind enough to send a loaner for testing. As often with these things, we only have access to them for a small number of days and these days need to coincide with my availability to actually shoot something, as well as a feasible story that can be shot at that exact time. As it happened, it was around for three days and I had only half a day available for shooting, so I had to do what was possible in the short amount of time.
Thanks to my friend & director Tamás Kiss, we were able to join a special "expedition" to the top of Vienna's major landmark, St. Stephen's Cathedral. Very rarely, the people in charge of the Cathedral allow major sponsors that help financing renovations of the building to to climb the outside of the Cathedral with professional climbing instructors and of course the appropriate professional gear – all of course while taking care of the fragile Gothic features of its facade.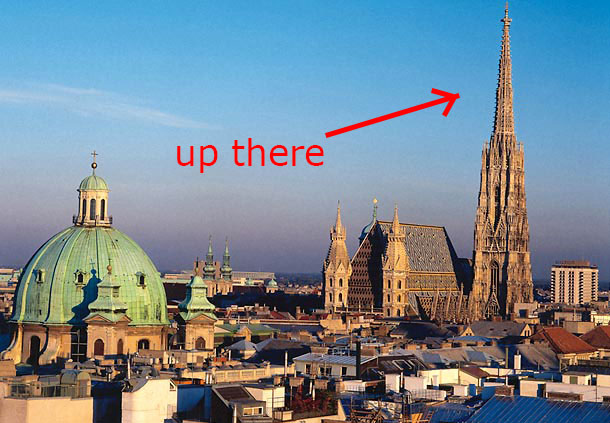 Due to the the circumstances of this shoot this review should be mainly be judged for the handling and the usability of the camera, rather than picture quality: we were only provided with one 32GB card of Sony's XQD cards and I couldn't organize another one on short notice, so I had to switch to the inferior version of the XAVC codec (XAVC L – the long-gop version of Sony's new codec), in order to have at least about 30 minutes of recording time.
Dealing with XAVC L in post was a bit of a nightmare for Támas when he edited as most editing applications can't take the new version of this codec yet. Only Premiere Pro CC 2014 was able to deal with it at the time of writing.
It was extremely hard to fit the camera rig and equipment through the very narrow inside of the Cathedral staircase and some windows we had to climb through. In the end, I wasn't able to climb the roof itself with the camera because of security concerns of the staff – unfortunately I didn't have my Sony A7s with me, which would have been perfect for this job. Therefore, you have to make due with the photos the climbers took with their GoPros on top of the Cathedral.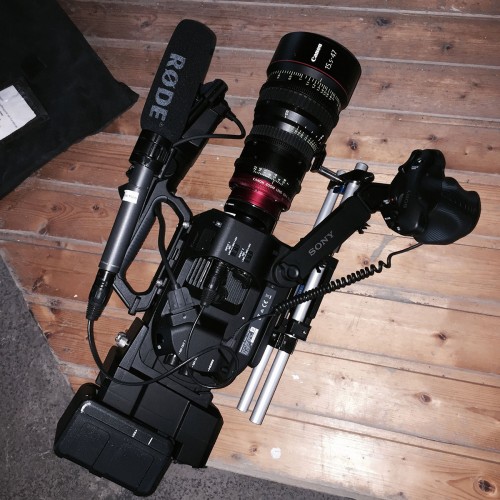 But back to the camera:
It was a run-and-gun sort of shoot, meaning that with little preparation, we had to go there and use the camera more or less "as is", with its built-in handle and grip, directly on the shoulder. And that worked very well. It's nice to have a camera that can be put on your shoulder without adding additional pieces, and the design of the grip fits a lot of different hands very well. The added controls are a further plus, and will be even more relevant once Sony's new 28-135mm f/4 E-Mount servo zoom ships, because the zoom and many other functions will be controllable via the grip.
It's easy to see that Sony engineers might have been stuck with a dilemma when designing the camera: on one hand, most cameraman keep telling them that properly balanced cameras have to sit on the shoulder. On the other hand, everybody wants a small camera – but those two things are hard to combine.
Sony ended up building a camera that is considerably longer than one of its competitors, the C300 – but if you look at it closely, you realize that half of the camera seems "empty" – there is a huge empty space at the back which is were the battery goes, which goes half way into the camera. It seems much bigger than even Sony's biggest battery, because the optional V-Lock adapter also needs a lot of space. It also seems like most of the electronics of the camera are built into the front of the device.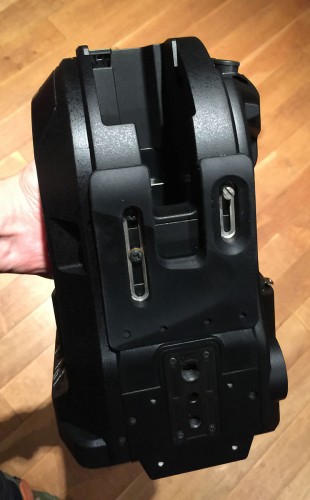 All that has an effect on the weight distribution of the camera, making it quite front heavy. Add a lens to that, and you have an extremely front-heavy camera, even if only a comparatively light prime lens (like a Zeiss Cinema Prime) is attached. The center of gravity seems to be around the lens mount with light lenses. The most obvious solution is to use Sony's optional V-Mount adapter and attach a V-Lock brick battery to it, which makes it "kind of" balanced with many lighter lenses, also photo zooms.
For the test shoot, I used the V-Lock adapter with a V-Mount battery and it worked a treat. The camera needs very little power and lasts forever with a large V-brick. However of course, it makes the whole rig even bigger and in total it's similar to an F5 or F55 in size.
The shoulder pad on the camera is too far back for most intents and purposes due to the center of gravity being so far in front in most usage scenarios. Considering the fact that the center of gravity changes depending on what lens or battery you use, it's also not good that it can't be moved at all. Sony probably knew that and so they made the pad extremely small, which makes it easy to attach yet another optional shoulder mount solution (which can be moved) at the bottom. There goes the out-of-the-box approach once you start building things up again. If you want to use rods for a follow focus or matte box, you of course also have to add a base plate, there is no rod housing build into the camera. But that can't really be expected of the camera of course.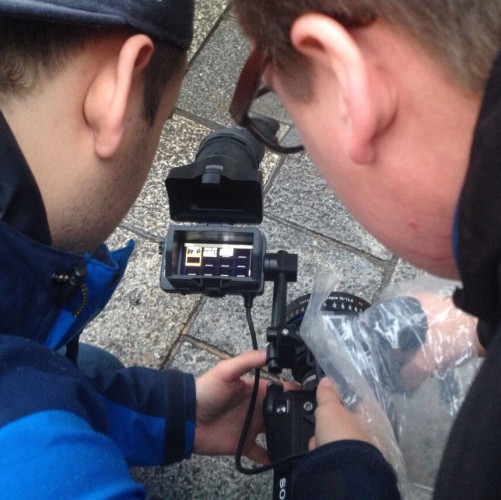 It's great that Sony includes a quite decent viewfinder with the package offering all the shananigans including peaking, zebra and histogram. The resolution isn't the best (940×560 pixels) but good enough for decent focusing in most cases. LUTs can be applied to the preview image too. However the mounting mechanism of the viewfinder lets a lot to be desired and I can clearly see how this will become a major point for accessory manufacturers to improve on. The viewfinder attachment loupe also reaches too far back, which makes balancing the camera even harder as you have to move it forward on your shoulder quite a bit to see through the viewfinder. The loupe can be flipped up to reveal the screen. My friend Dan Chung has attached an adapted Zacuto Z-Finder to his FS7 instead of the standard loupe as it's much shorter and allows for better balancing on the shoulder with the setup (read his review here, it's very extensive too and covers some other great points about the camera).
In typical Sony fashion, there are loads of buttons on the side of the camera body, and the layout needs some time getting used to in the beginning. There are some assignable buttons that are already pre-assigned with some functions, e.g. the high speed recording option. Unfortunately, I managed to hit the button by accident when squeezing through one of the Cathedral's tunnels to get up on top, and accidentally recorded some shots in slow motion – which is recorded without sound. I think these buttons should ask for some kind of confirmation if you hit them once before the function is actually initiated.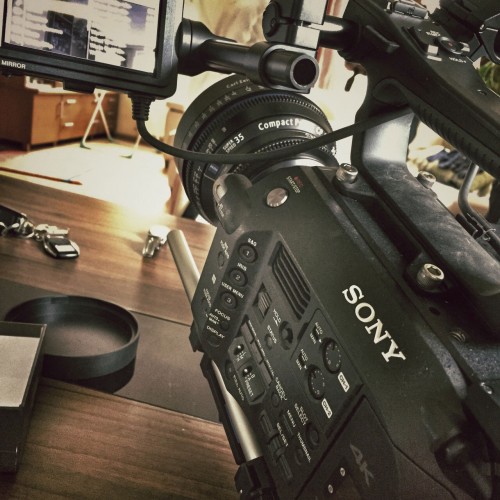 If you want to switch frame rates and resolutions you are forced to go deep into the menus as usual with most Sony cameras, though I am sure most of these functions can be assigned to buttons as well.
After I wrapped the test shoot, my friend Tamás went back to shoot the slow motion stuff on the ground on the next day (when it didn't rain) before we had to return the camera.
He mentioned that he felt the joystick on the handle to react a bit sloppy at times, but he liked the the three-step ISO/Gain switch on the camera (which is very common for Sony broadcast cameras).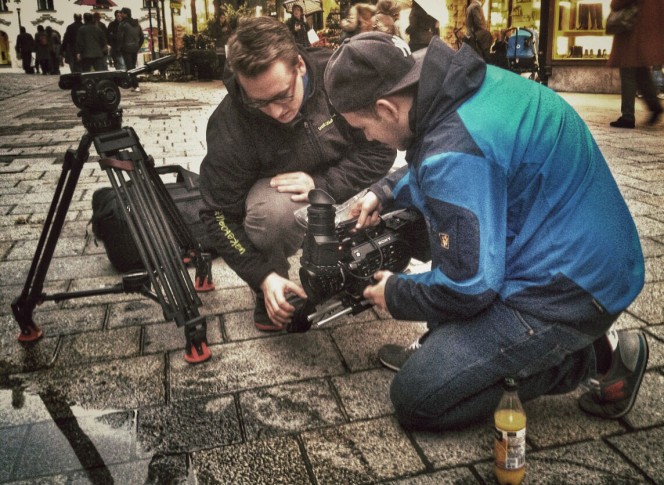 Conclusion
Considering the price of the camera it's incredible how much is offered with the FS7 – internal XAVC 4K, proper high speed recording with up to 180 fps in 1080p interally, a nice shoulder grip – Sony managed to put in a whole lot of value into a very inexpensive camera. Canon have to step up their game now, probably with a 4K version of their C300 camera at some point in early 2015.
Having said all that, the FS7 falls a bit short of being the killer documentary camera simply due to handling and usage issues, which range from problematic balancing to the sheer complexity of the menu and button layout. However, it's no small feat that Sony has attempted there, and something that even higher end cameras haven't really completely nailed yet – so please take this assessment with a grain of salt and accept that it's Sony's first attempt to build a small docu cam with interchangeable lenses. It can't compete with the likes of an Amira for sure but that's also not what it was built for.