14 Comments
Canon EOS C100 announced – finally, the Sony FS100 gets a real competitor – or does it?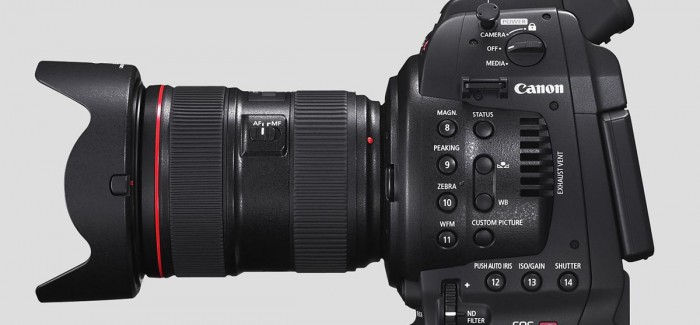 On

August 29, 2012

http://www.ninofilm.net

Canon just announced the Canon C100, its long-awaited entry level camera into the cinema market. It shares many of the traits with the C300, which I has become my camera of choice for the majority of my work over the past year (watch the short film "Homophobia" here, shot 70% at night – and read my extensive C300 review here, including our test short "13:59").
AVCHD, auto focus & push auto iris
While it shares much with the C300, it features the AVCHD codec instead of the add-on monitor/XLR part of the C300, as well as a flip-out screen at the back of the camera – much like we have grown accustomed to from other Canon DSLR cameras like the 60D or 650D.
Interestingly, Canon also tries to appeal more to the semi-pro by introducing a push auto iris function as well as optional "one-shot auto-focus". Don't expect a full blown auto focus feature here as this is limited by the EOS photo lenses – these lenses are not equipped to continuously measure focus, but only very rapidly when touching the release button of a DSLR slightly. Canon is expected to have that same functionality in the C100. However, according to Canon there will be a firmware update for continuous auto focus when using their new stepping motor (STM) lenses that were announced alongside the 650D earlier this year. I wouldn't expect too much though, these are still primarily stills lenses and the 650D's autofocus mode leaves much to be desired
Interestingly, Canon calls the C100 a "digital video camera" in its press release, while the upcoming 4K capable C500 is touted a "digital cinema camera" like the C300. I'm sure it's mainly due to the different codec.
I find the announcement significant and have kept wondering for a while when Canon might introduce an entry-level camcorder like this. After all, the Sony FS-100 was the only S35mm camcorder in the $5,000 price range.
The suggested retail price for the C100 is $7999, available in November, but I am sure we will see it for considerably less in stores when it's actually available (like with the C300). Canon also released the suggested retail price for the C500 – $30,000, that's more than expected.
The price, if true, clearly puts it more into the spheres of the FS700 than the FS100, which is of course a lot tougher for Canon to compete with due to the lack of slow-mo ability. However, we haven't seen images yet and if they are more like the C300 than the FS700 that clearly is a trump for Canon. I do not take the 4K capability of the FS700 in consideration as long as I haven't seen any recorder (and price for it) as well as the footage itself. As of now, the touted 4K upgradeability of the FS700 is good marketing but not much more. So let's hope Canon reduces the suggested retail price by $1,000 or so to make it more appealing to the FS100 crowd.

UPDATE on pricing:

CVP in UK is already taking preorders, and along with A.F. Marcotec in Germany, they are charging around €5,300 (without VAT) for the camera. Not too bad after all, and considerably below the suggested retail price. Heck, this is LESS THAN HALF the street price of the C300 here in Europe!
Main features of the Canon C100:
– EF mount
– S35mm sensor
– magnesium body
– 2 XLR audio inputs
– 24/25/30p and 50/60i
– ND filters (!!! – HUGE advantage over the FS100)
– ISO 320 – 20.000
– DIGIC DV III processor
– Canon Cinema Log Gamma
The new stuff:
– 85% of the C300's size
– AVCHD codec
– 2 slots for SD-/SDHC-/SDXC- cards
– AF function to be introduced via FW upgrade in 2013
IBC & Photokina 2012
So it looks like a VERY exciting September coming up with IBC in Amsterdam and Photokina in Cologne, which I will be attending of course, and I'll try to get my hands on the C100 as soon as possible! Same goes for the very promising Blackmagic Design Cinema Camera that a few of my colleagues already are beta testing right now. Despite having a smaller sensor it offers raw recording capability, which is absolutely unheard-of in the price range of $3,000, for which the BMCC will be sold at (including a full license of Resolve).
Interesting times ahead indeed, it's truly incredible how fast cameras are being released now, especially after two relatively meager years after the initial release of the 5D Mark II, which really jump-started it all. Sony is expected to push the limits too with its full-frame A99 DSLR with proper video functionality … as you can see it does not end, but never was there a better time to be a cinematographer!

UPDATE on frame rates:
Sad but true, the C100 seems to have NO 50p or 60p modes at all – that means no "real" high-speed shooting. If this is really true, it's a major letdown. Not only considering that Sony has an incredible attractive offering with the FS700 with up to 240fps in 1080p. The C100 seems to not even be able to do 60p in 720p. What a shame!
Oddly there is no 720p mode AT ALL …
It might be due to limitations with the codec, which is only 24 MBit – but then again, Sony has figured that out too. The camera needs a buffer, for sure, but Sony has proven that it's more than possible.
This really is unacceptable in my book and Canon need to fix this before this camera hits the market. There are 50i and 60i modes, but I never touch interlaced when not forced to, there simply is no technical reason for this mode to still exist with LCD screens, yet the HD consortium decided to define interlaced formats as a standard because 50p and 60p modes where probably too much to stomach for broadcasting technology more than 10 years ago when they defined the standards … anyway, pretty pointless to shoot interlaced if your broadcaster doesn't force you too, and mind you, interlaced quality is also pretty crappy on most cameras (also not particularly pretty on the C300). AND playing back 50i or 60i at 24/25/30 fps as an alternative to shooting 50/60p makes not much sense as there simply isn't enough image information to make it look good.
So Canon … please come up with a solution for this!!
Head over to the Canon website for more on the C100.
Here's Canon full press release:
CANON INC. : Canon U.S.A. Adds Two New Cameras to the Cinema EOS System: the EOS C500 4K Digital Cinema Camera and the EOS C100 Digital Video Camera
08/29/2012 | 04:05am US/Eastern
Two New Camera Models Fill Out a Well-Rounded Cinema EOS Line-up with High-End 4K and Entry-Level HD Camera Solutions
Canon U.S.A., Inc., a leader in digital imaging solutions, continues its commitment to the advancement of tools for visual expression and expand its contribution to cinematic culture with the introduction of the new EOS C500 4K Digital Cinema Camera* and the EOS C100 Digital Video Camera*. The C500 will take its place as the flagship camera model in Canon's Cinema EOS System while the C100 provides another option for beginning filmmakers working on a budget. The C500 is Canon's high-end professional 4K (4096 x 2160-pixel) cinema camera capable of originating uncompressed RAW output for external recording to meet the demands of premium cinematic productions and other top-quality production markets. The C100 digital video camera is a compact, affordable entry-level model delivering full 1920×1080 HD video and integrating the popular AVCHD codec for universal compatibility with laptop and desktop editing systems. The C500 will be available in both EF- and PL-mount versions; while the C100 will be offered in EF mount only and will be compatible with the more than 70 zoom and prime lenses in Canon's EF, EF-S and EF Cinema lens lineups. All products in the Canon Cinema EOS line are engineered to provide exceptional image creation capabilities for professionals in the motion picture, television, and other diverse high-resolution digital production industries.
"We developed the Cinema EOS C500 digital cinema camera to deliver the benefits of full 4K motion capture to Hollywood's premier filmmakers, while the C100 is designed for economical productions that need sophisticated HD capabilities and optical lens diversity. As we said in November of 2011, the C300 was just the beginning to our Cinema EOS system and we now offer a more complete system of imaging solutions with a range of cameras for every level of production," stated Yuichi Ishizuka, executive vice president and general manager, Imaging Technologies and Communications Group, Canon U.S.A., Inc.
The EOS C500 4K digital cinema camera and EOS C100 digital video camera join Canon's Cinema EOS System which includes two other camera models, the EOS C300 digital cinema camera for mainstream HD production and the EOS-1D C 4K Digital SLR cinema camera for 4K and HD filmmakers favoring the SLR form factor. The Cinema EOS System also offers filmmakers optical diversity with seven EF Cinema lens models: the compact and lightweight CN-E15.5-47mm T2.8 L wide-angle cinema zoom and the CN-E30-105mm T2.8 L telephoto cinema zoom (available in EF and PL versions); the CN-E14.5-60mm T2.6 L wide-angle zoom and CN-E30-300mm T2.95-3.7 L telephoto zoom (also available in EF and PL versions); and the CN-E24mm T1.5 L, CN-E50mm T1.3 L, and CN-E85mm T1.3 L prime lenses for EF-mount cameras, in addition to the more than 60 lenses in Canon's EF and EF-S lens lines (which include macro, fisheye, telephoto, and tilt-shift models).
4K, 2K, and Full HD Image Quality
The Canon EOS C500 and C500 PL digital cinema cameras are designed to provide a versatile high-quality 4K imaging solution to high-end productions. High-quality 4K resolution imaging has become the new standard for advanced effects and is particularly important for big-budget motion pictures that include scenes compositing live-action cinematography with high-resolution computer-generated imagery. The C500 and C500 PL cameras output 4K resolution to external recorders as a 10-bit uncompressed RAW data stream, as well as offering the additional versatility of being able to output quad full-HD (3840 x 2160), 2K (2048 x 1080), full HD (1920 x 1080), and other imaging options. All of these digital image source formats fully conform to established SMPTE production standards. All 4K formats can be selected to operate from one to 60 frames per second. When shooting in 2K, the C500 and C500 PL cameras employ a 12-bit RGB 4:4:4 signal format from one to 60 frames-per-second (fps) as well. For high-speed shooting and slow motion capture the cameras can be set to a 10-bit YCrCb 4:2:2 mode, and can output 4K or 2K video up to 120 fps.
While outputting 4K or 2K video to an external recorder, the Canon EOS C500 and C500 PL digital cinema cameras simultaneously record a 50 Mbps Full HD video file in-camera to the user's choice of one or two CF cards. The 8-bit 4:2:2 in-camera recordings can be used as a proxy for offline editing of 4K projects, and they are also suitable for various projects that do not require 4K resolution. Equipped with Canon's exceptional Super 35mm 8.85-megapixel CMOS sensor, both C500 camera models are compatible with a wide range of interchangeable Canon lenses – the C500 is compatible with EF, EF-S and EF Cinema lenses for Canon SLR cameras, while the C500 PL is compatible with PL-mount EF Cinema lenses and other PL-mount lenses. Highly mobile and compact, the C500 digital cinema camera provides the same ergonomic features as the C300 model, with the exception of a fixed hand grip that incorporates a pair of 3G-SDI ports for 4K video output and another pair of video ports for monitoring purposes. Canon is working with several independent manufacturers of external video recorders to support smooth workflow options, and these recorders are expected to be available by the time the EOS C500 and C500 PL 4K digital cinema cameras ship to authorized dealers later this year.
One-Person Full HD With Automatic Functions
A cost-effective camera solution for a wide range of everyday users, the EOS C100 digital video camera is ideal for many full HD applications such as:
Low-budget television production and independent moviemaking
Museums, galleries, and film schools that utilize Full HD video
Wedding, corporate and event videography
The EOS C100 digital video camera is approximately 85% of the size of the EOS C300 model, for maximum mobility. Designed for professional operability, the C100 includes a push auto iris function, one-shot auto focus (or full manual focus and exposure control), a multi-angle 3.5-inch LCD control panel, a high-resolution electronic viewfinder (EVF), built-in ND filters, dual XLR inputs, and a locking HDMI output. These features combine with such advanced technologies as reduced rolling shutter artifacts in 60i mode, enhanced gamma modes (including Wide Dynamic Range (DR) Gamma and Canon Log Gamma), cinematic depth of field characteristics, and excellent low-light performance. The C100 records to dual SD cards contributing to the camera's reduced size and convenience.
Like its C300 sibling, the EOS C100 employs Canon's uniquely designed Super 35mm 16:9 CMOS sensor that captures individual R, G, and B channels for each full HD 1920 x 1080 frame. This high-sensitivity CMOS sensor provides creative depth of field capabilities for an excellent "bokeh" effect, and provides an ISO range of from 320 to 20,000, enabling the capture of images in low light with minimal picture noise. The Canon DIGIC DV III image processor in the C100 helps ensure high color fidelity and smooth color gradations. The camera's AVCHD codec utilizes MPEG-4 AVC/H.264 compression similar to the codec used in Canon's XA10 professional HD camcorder. AVCHD features a maximum recording bit rate of 24Mbps in full HD 1920 x 1080 and 4:2:0 color space for sharp, vivid images. Multiple recording modes, resolutions, and frame rates (including 24p) make the C100 creatively flexible for many production environments. The C100 also offers enhanced gamma modes (including Wide DR Gamma and Canon Log Gamma) for a peak dynamic range of 800% and the wide exposure latitude needed for creative post-production image processing, color correction, and contrast manipulation.
Designed for extensive operational versatility, the Canon EOS C100 digital video camera features a mobile core configuration that allows users to flexibly add accessory parts to the main camera body according to their production needs. A removable side-mounted rotating grip with start/stop button and miniature "joystick" menu control provides traditional SLR camera-style operation. A detachable handle unit connects to the top of the C100 and includes dual XLR connectors, a built-in stereo microphone, a bracket for an external microphone, audio-input level adjustments, and a tally light. The C100 records linear PCM two-channel audio or Dolby digital two-channel audio.
In addition to its ability to record to both SD cards simultaneously, or relay-record from one card to the other, the Canon C100 Cinema EOS camera can also output uncompressed digital HD to an external recording device via its locking HDMI connector. This HDMI output includes superimposed time code and 2:3 pull-down marker information. Additional outputs include a USB connector and stereo headphone jack.
Pricing and Availability
The Canon EOS C500 and C500 PL 4K Digital Cinema Cameras are scheduled to be available in October for an estimated list price of $30,000. The Canon EOS C100 Digital Video Camera is scheduled to be available in November 2012 for an estimated list price of $7,999.
About Canon U.S.A., Inc.
Canon U.S.A., Inc., is a leading provider of consumer, business-to-business, and industrial digital imaging solutions. With approximately $45.6 billion in global revenue, its parent company, Canon Inc. (NYSE:CAJ), ranks third overall in U.S. patents registered in 2011? and is one of Fortune Magazine's World's Most Admired Companies in 2012. Canon U.S.A. is committed to the highest levels of customer satisfaction and loyalty, providing 100 percent U.S.-based consumer service and support for all of the products it distributes. Canon U.S.A. is dedicated to its Kyosei philosophy of social and environmental responsibility. To keep apprised of the latest news from Canon U.S.A., sign up for the Company's RSS news feed by visiting www.usa.canon.com/rss.
* This device has not been authorized as required by the rules of the Federal Communications Commission. This device is not, and may not be offered for sale or lease, or sold or leased, until authorization is obtained.
?Based on weekly patent counts issued by United States Patent and Trademark Office.
All referenced product names, and other marks, are trademarks of their respective owners.
Canon U.S.A., Inc.
Editorial:
Len Musmeci, 516-328-4884
lmusmeci@cusa.canon.com
or
Kevin McCarthy, 516-328-5950
kmccarthy@cusa.canon.com
or
Canon U.S.A. Website:
http://www.usa.canon.com
or
For sales information/customer support:
1-800-OK-CANON