67 Comments
T2i / 550D knock-off battery grip review Part 4: Essential DSLR accessories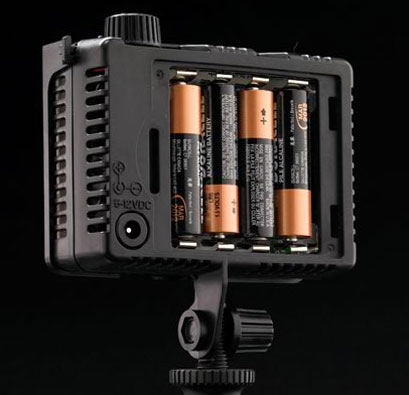 A few days ago I finally received my knock-off battery grip for my Canon T2i/550D. I personally think that there are lots of parts where you should go with the original, but I have made good experiences with knock-off battery grips for other cameras in the past and I simply don't accept paying three times as much for something as simple as this.
I have seen both the original Canon as well as several knock-off battery grips for the T2i/550D before I decided to go with a knock-off, and the differences were minimal.
So why use a battery grip after all?
One of the most annoying features of the T2i/550D is its relatively small and light body. If you put a normal full-frame lenses on it (like I do all the time with my Canon EF 24-70mm f/2.8 standard zoom) it becomes very front-heavy. With this lens in particular it's even more annoying as it's almost twice the weight of the camera body itself, and the bottom of its barrel goes further down than the bottom end of the camera body. So if you put it on a flat surface, the camera will rest on the barrel instead of the camera – therefore making it impossible to operate the focus or even shoot anything with it without jacking the body up on something.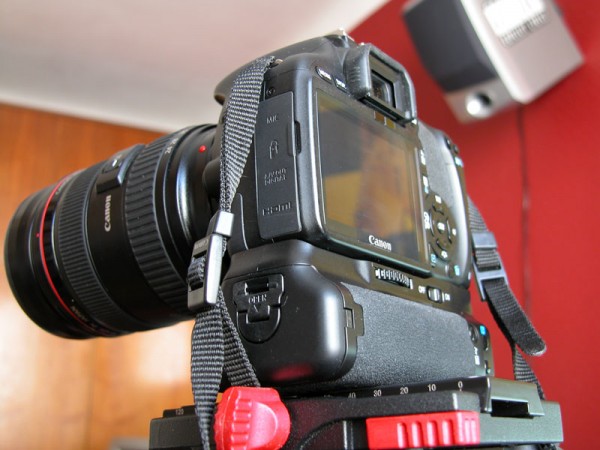 Handling issues
Also due to its small body, the T2i is not comfortable to hold when you have normal sized hands. I have quite large hands and I guess that makes it even more annoying. I was particularly unnerved when I was constantly switching between Philip Bloom's 5D Mark II and my 550D on my behind-the-scenes shoot for Lucasfilm's RED TAILS last month. While taking practically identically video to the Canon 7D, the T2i/550D has a really plasticky body in comparison. The 5D Mark II has of course also a much more professional body.
That – by the way – is the reason why I keep telling 7D owners that they don't need to worry that they overspent by buying the more expensive DSLR. The built quality is the main differentiating factor (as is the faster image processing in the 7D) between the 550D and 7D. In fact, I've heard several 7D owners say that they have let their 7D out in the open when it was freezing, and the camera held up. I don't think the 550D would take this kind of beating.
So let's get back to handling: To sum it up, I think a battery grip is an essential piece of kit with any T2i/550D. But handling issues are not the only reason why I think it's a must-buy:
AA battery option
Apart from taking two LP-E8 (or compatible) batteries, most battery grips have the added option of taking 6 AA batteries – which is incredibly handy. It uses a second tray for holding these batteries – both of them are supplied with the battery grip.
I always carry at least one set of backup AA batteries with me if I should ever run out of charged LP-E8 (or compatible) batteries.
eneloop – the essential rechargeable battery
Even better than expensive AA batteries are rechargeable AA's. Now you've probably made the same bad experiences with them I did too – most rechargeable AA batteries don't hold up too well with electronic devices that require a relatively high current like these DSLRs. But, however, somebody recommended to try Sanyo's "eneloop" brand.
I can't tell you how awestruck I was when I first realized how great they performed: I don't think there is anything comparable to them on the market (if so, please let me know in the comments!). The great thing about them is that they not only perform well and for long hours, but they also seem to be able to remain charged for long periods of time.


UPDATE:
I just tested for how long the camera would run using 6 of these eneloops in the battery grip, the result: 2 hours and 40 minutes! That's almost twice as long as you get out of an original Canon LP-E8. Not bad at all!
I always use them with my incredible LitePanel Micro, a dimmable LED top light that I don't leave the house without when I have a camera like the 550D (or larger) on me. I quite often find myself leaving it in the camera bag for weeks unused, and then suddenly, there's some kind of night shoot where I need it for hours. What can I say – the eneloops just do what they are supposed to do, they give you 1.5 hours of battery life if you use the LitePanel Micro at its maximum brightness. Simply incredible – some of the best standard AA's on the market (non-rechargeable) only lasted for a bit more than an hour when I tried them with the LitePanel.
Added buttons for still photographers
For those also taking stills with there 550D's it will also be interesting to know that the battery grip adds some buttons to the camera – a second release button for comfortably taking stills in portrait mode, as well as an additional selection wheel and additional zoom buttons.
Viewfinders
A battery grip might be an issue with some of the available viewfinder solutions that attach to the bottom of the camera, but these issues are usually resolvable. Zacuto offers special frames that make it possible to use its new baseplate mount for the Z-Finder with cameras that are using battery grips as well.
Tripod issue
Something also easily overlooked is the annoying position of the battery compartment on the T2i/550D. In some cases, you need to take the tripod plate off the camera to exchange batteries. In any case, you are required to take the camera off the tripod, which takes time and is annoying as well, especially if you are in the middle of a shot. The battery grip enables you to just slide the AA or LP-E8 compartment out and put fresh batteries in. Done.
I am looking forward to using this battery grip on any future productions with my 550D. It simply makes it a better camera – and it pimps up the looks of this otherwise inconspicuous DSLR as well, which isn't a bad thing.
Due to multiple requests, here is the knock-off 7D battery grip as well:
7D knock-off battery grip on Amazon.com / Amazon.de / Amazon.co.uk.
Thanks for supporting my blog through using these links! It sure helps a bit, greatly appreciated.