3 Comments
Music video: Atomique / P.tah / Con feat. Testa – "Livestream"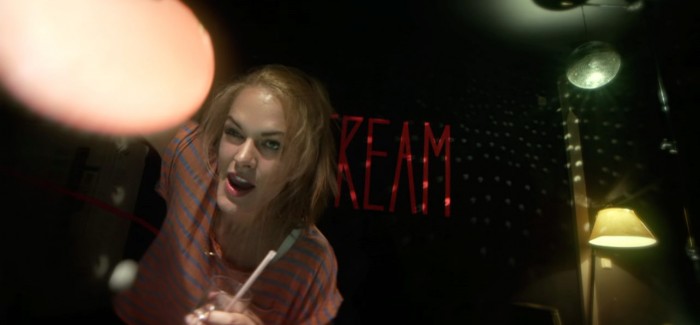 On

July 8, 2012

http://www.ninofilm.net

This is a music video I recently shot for my old friend Martin Unterlechner aka Moschmuda, who directed and edited it. His label DuzzDownSan is specialized in Hip Hop, and they do things a little differently – which is why I was immediately on board with this after I heard about the concept.
Lighting and shooting speed
It was shot on the Canon C300 with EF lenses, and there were only two light sources: a large Kinoflo 4-bank rigged up from the top from the trusted gaffer Markus Harthum, and a small practical from the side (which you can see in shot). That was it! The video was shot at 50 frames per second in 720p, played back at 25fps, resulting in 2x slow motion.
We were very limited time-wise and shot the whole video within 3 or 4 hours in total. Crazy!
Lenses
This was shot with only 2 lenses: the wonderful Tokina 11-16mm f/2.8 (an absolute must-have wide angle on any crop sensor DSLR or S35mm camera like the C300), and the Canon L 24-70mm f/2.8.
Colour grading
Colour grading was tricky with this one as I heard from Mosch – he edited the video himself. The hard shadows didn't make it easy and the codec was definitely at its limit with some corrections, also considering that I wasn't always able to expose correctly with the fast motion and the harsh lighting differences. However, as you can see, with a little work, the codec held up remarkably well, and the detail in the shadows is still amazing. I think this video (with the same simple lighting setup) would have been utterly impossible to shoot like this with a Sony FS100 or FS700 due to the heavily compressed AVCHD codec. It would have been way too dark for cameras like the 7D, 5D Mark II (not III) or 550D/600D/650D (or T2i and successors).
C300: dead at the end of the shoot … resuscitated after a week
By the way, on this shoot my C300 died at the very end because I made the mistake of switching lenses while it was running. This is a known problem with this camera, especially with lenses that include electronic contacts (like all the Canon and third-party lenses that trigger their f-stop through the camera). Luckily the camera has a fuse that can be switched by a Canon CPS services, HOWEVER as of now, in Europe only CPS Services Germany seem to be equipped to do that – so the camera had to go to Germany and I had it back around 6 days later. Thanks a lot for the fast and efficient help by Canon on this one, but this is really a problem that needs to be fixed somehow – switching lenses while running is a normal thing to do and you really shouldn't have to think about that while operating a professional camera like this one. The Canon DSLRs don't seem to have a problem with this after all.