One Comment
G-DOCK ev & G-DRIVE ev Review (pre-production unit)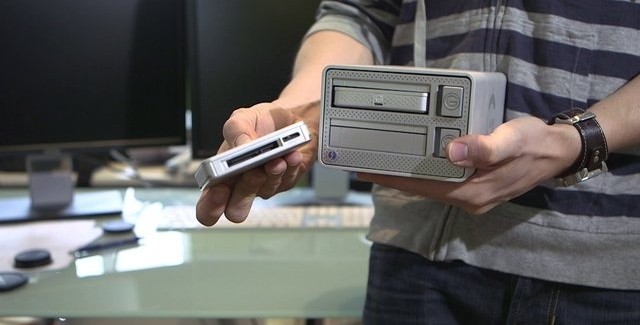 On

June 17, 2013

http://www.ninofilm.net
As one of G-Technology's "G-Team" members I have one huge advantage: they send me loan units of their new products and as for my feedback on what I think about them and how I would change them in the future.
A few months ago (weeks before this year's NAB), they sent me a top-secret pre-production unit of their new G-Dock ev including a G-Drive ev. To make a long story short, I was amazed that finally a storage manufacturer had put real thought in the needs of creative professionals like us filmmakers that have to deal with huge amounts of data in very little time.
The G-Dock ev is a very smart solution: It comes with two Thunderbolt connectors and thereby gives you access to the fastest interface connector out there. But the real genius of the whole concept is the fact that the dock is made to house two of the new G-Drives ev (or G-Drive ev plus), which are 2.5″ drives that can be operated independently via USB 3 (bus powered).
The advantages are obvious:
We can use the USB 3 drives on set for backup as we have been used to for a while now. USB 3 is very fast and versatile because it's supported by (newer) Macs and PCs. I usually save my data on two or better three of these drives simultaneously, using a piece of software called ShotPut Pro, which also verifies all the data. USB 3 bus-powered drives like the G-Drives ev and ev plus are also great because you can run them off your computer's power even if there is no power socket around (and as you all know, that happens frequently when you are shooting out and about).
Then when you come back to the studio, you pop the drives into your G-Dock and can access them even faster through Thunderbolt. They only sent me a "normal" G-Drive ev (not the ev plus), and I was still amazed by the speed both through the USB 3 and the Thunderbolt connection – it's considerably faster than a standard off-the-shelf USB 3 drive bought at an electronics retailer.
I can't wait to get my hands on the G-Drives ev plus because they will be even faster … they put two 2,5″ drives into one enclosure to stripe a Raid-0 for maximum speed from them. G-Technology demoed the drive at NAB (where they announced G-Dock ev and G-Drive ev plus) and the speed of that little ev plus blew me completely away – unfortunately I can't give you the transfer speeds that I saw there because I am not entirely sure anymore, but it was really, really amazing. According to the G-Tech specs, the G-Drive ev plus runs at 250MB/s. Mind-boggling for such a small drive!
I can't wait to get my G-Dock ev with some of the faster drives for future productions. So far it has always been a pain working with these small drives constantly because in order to do post production using the maximum possible speed, we always had to transfer the data from the small USB 3 drives to a Thunderbolt drive or Raid. Now, in many cases, I would leave the data on that drive, make a Raid-1 (identical copy) with a second G-Drive ev plus in the dock (easy with the second dock slot), and send one of the drives off to the editor or later the colour grader. It will be really easy to convince regular clients to buy G-Dock ev's because it will make the entire process much easier. Also, there are some things that always go missing when you send drives back and forth: USB cables and AC adaptors. When both the producer and the post production facilities own G-Docks, you can send the bare drives around – very convenient!
I will report in more detail about performance and how I use them on productions once I get a G-Dock ev with a G-Drive ev plus. The G-Dock ev should be available by the end of June.
The G-Dock ev including 2 x G-Drive ev 1TB (makes a total of 2TB) is $749 at B&H.
Click here to buy the G-Dock ev at B&H Photo & Video. 
Disclaimer: Despite my affiliation with G-Technology, they did not pay me to post this here on my blog. I truly believe this product can be a huge time saver on future shoots and it could finally help us filmmakers to establish an efficient video storage workflow starting at the shoot, and ending with post production or even the delivery of the final product to the client.