3 Comments
Audi – Interview with rally legend Walter Röhrl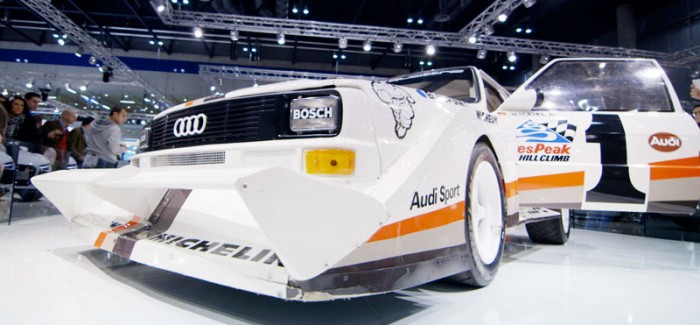 On

January 14, 2013

http://www.ninofilm.net
I was hired by my friends at LOOP New Media to shoot a high-profile interview with German rally legend Walter Röhrl at the Vienna Autoshow 2013. The winner of a Facebook competition on Audi Austria's page was allowed to ask him 5 questions in the original Audi S1 Quattro in which he won the Pikes Peak International Hill Climb in 1987.
Check out the interview (in German only, sorry):

Audi – Vienna Autoshow 2013 – Walter Röhrl Interview – S1 Quattro from Nino Leitner on Vimeo.
I was supported by my intern Phil Arntz, himself a very proficient shooter (check out the amazing film he shot in Australia recently), and we shot this with 3 cameras – a Canon C300, a Sony FS100 and a Sony FS700 (wide shot from the front). I put a lav microphone (Sound Devices VT506) on Walter Röhrl and used a Sennheiser G3 wireless kit. I put a Litepanel Chroma as an additional light source (to brighten up their faces) next to the stick shift in the car, put into place by using one of the extremely handy new VBags Philip Bloom Edition (check out my video review here, and get 5% off by using the discount code "ninofilm").
As usual, lots of time constraints on a shoot like this, so we set up everything ready to go way before Walter Röhrl arrived. One compromise was the angle of the FS700 which we didn't really have time to adjust because it was rolling on its own – I should have repositioned it a tad higher so we would have been able to see Richard's face as well. Other than that, I am quite happy with how it turned out.
Everything was shot and edited within a day.
Client: Audi Österreich
Agency: LOOP New Media GmbH
DP: Nino Leitner
2nd camera: Phil Arntz
Edit: Nino Leitner