44 Comments
NAB: Final Cut Pro X – rethinking the editing paradigm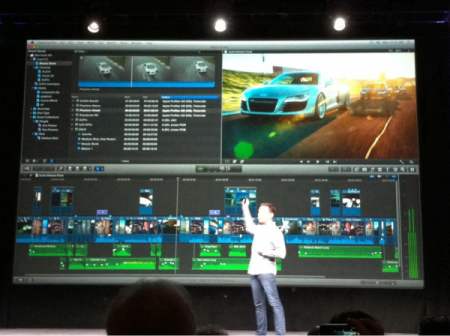 UPDATE:
It's finally June and Final Cut Pro X is available for download from the App Store. It's time to start learning all the new stuff!

———

I know NAB 2011 has been over for more than a week now already, but I'm busy traveling across the US and therefore had little chance to keep you guys posted. Apart from meeting all these amazing people – and that's what it really was about – let's dive right in and have a look at the major product that was introduced while this year's show was taking place – Apple's unveiling of their all-new Final Cut Pro X editing software.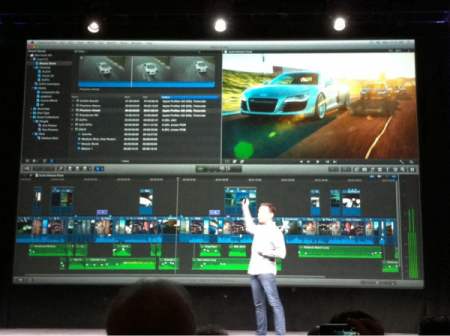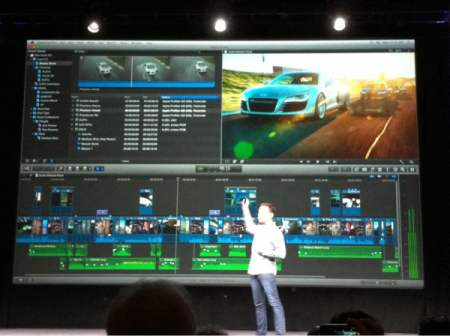 The sneak peek at Final Cut Pro X was one of the relatively few real innovations I found at this year's NAB. They took over the Final Cut Pro User Group meeting aka "Supermeet" in the Bally's Hotel and ousted many other sponsors (among them Avid) and keynote speakers (among them Philip Bloom) on very short notice. Of course they didn't announce officially that Apple had taken over beforehand, but it was rather obvious that something was brewing … especially because Apple invited a select group of editors to an exclusive early preview of it a few months back to get their feedback. Most of them were amazed but they couldn't talk about it.




Final Cut Pro User Group "Supermeet" taken over by Apple's introduction of Final Cut Pro X
I attended the sold-out presentation at the Supermeet personally (with my friend and great editor Tej Babra, Paul Antico and Kira MacAlpine) and it was great to be right there among so many talented and ambitious editors, all dedicated to the Final Cut Pro platform like me. It was staged like a typical keynote by Steve Jobs, but Randy Ubillos, Apple's chief pro video software architect, was in charge of the presentation instead of "his Steveness".
A revolution for Final Cut Pro?
By now everybody should have heard that the new Final Cut Pro X is a real departure from what they have been doing before, and I think in a VERY positive way. Before I start talking about some of the many, many innovations, let me share a very curious observation I made right after the presentation:
The room filled with 1,500 editors was simply blown away by what they had in store for us. I could tell from the reactions and the applause in the audience that people were really happy that Apple finally took on the challenge to re-invent Final Cut Pro, a piece of software that – while being based on a great concept – has essentially stood still over too many years, giving competitors like Adobe and Avid many, many opportunities to catch up and tackle Apple's core market. Apple presented a sneak peek at the software that is going to be sold starting in June already, but they – interestingly – did not record or even broadcast the presentation on their website as they usually do.
I was busy tweeting out a live stream of the innovations as they demoed them one after another, some of them being based on ideas they already introduced with iMovie. That's probably one of the reasons why a lot of people who DIDN'T attend the presentation got a very mixed bag of feelings out of all the news they read, as many were fearing Apple was going to "dumb down" Final Cut Pro and make it to some kind of "iMovie Pro". Well, as someone who was there, I can once again assure you that the great majority of the entire audience had a very positive impression and that Apple was finally doing something that they should have done a long time ago already – getting rid of old baggage, taking out the best bits and re-modeling the package to tackle the new challenges that filmmakers like us have to face nowadays.



Why starting from scratch was necessary for a new version of Final Cut Pro
So what was the problem with the "old" Final Cut Pro, some of the less experienced folks might ask. Well, its main problem was that its first version was introduced in 1999 and its basic editing functions – the core of what editors have to deal with when editing every day – haven't changed a bit since then. I've been using Final Cut Pro since version 1.2.5 (that must have been around the year 2000) and I can assure you that anybody working with version 7 would be able to work with version 1.2.5 immediately. Most of the changes they made were added features on top, but the nitty-gritty didn't change – and that's where most of the problems are buried:
For example, have you ever had a video clip on, say, the second video layer in a FCP timeline that needed rendering? Then you might have rendered it and pushed it to another position in the timeline, where – you guessed it – it needs to be rendered again, even when the resulting content of that clip remained absolutely the same. Just a huge waste of time and resources that Apple was never able to get rid of with the old version. This is just one example for uncountable issues there are with the current version of the software. It's all written in old-school 32-bit architecture, preventing it from using larger amounts of RAM or multiple processors, and of course also no background rendering.
Users of other "Pro" Apple software might have been wondering why Final Cut Pro 1-7 looked and worked so different from most other Apple  Pro packages (and even the other applications within the Final Cut Studio package) – the answer is simple: Apple bought the software from Macromedia (now Adobe) at a very early stage and took over development. Everything Macromedia put into the editing system is still there in version 7, with more and more features that Apple added over time.



Just a preview … nothing official yet
Even now, more than a week after the presentation, there is no sign of the new Final Cut Pro X on their website, it's still all about the "old" version 7 (and Final Cut Studio 3). While Tej shot some portions of the presentation on his 7D and put them on his blog one day later, strangely causing Apple to call him at 6am and threatening legal action, somebody else taped the entire one-hour presentation, put it on Vimeo and it's been there ever since. (Maybe they just realized afterwards that this was a stupid move to threaten your core audience?)
There's really not much point in talking about every presented item in detail, so I encourage you to watch the entire presentation embedded below, or check out FreshDV "summary" to check out an edit of the presentation that includes the most important innovations and functions of the new Final Cut Pro X.
Here's FreshDV's summary edit:
A Sneak Peek — FCP X
Here is the full presentation:


Check out the full feature list of Final Cut Pro X right here at FilmMakersMagazine.
Check out the full new feature list, Tej Babra wrote it all up:
64 bit native taking advantage of all the processors and ram available
New GUI and open CL
Resolution support up to 4K
All new Media Management.
Background ingest and rendering in the background.
Range based Keywords applying to individual clips.
Magnetic Timeline : sliding clips down the timeline and others clips simply move out of the way. No more sync issues.
Collapse edits into clips, ( nesting within the timeline )
Auditioning HUD for trying out your clips within the timeline, using a cover flow like interface.
audio syncing for DSLR media. ( similar to Plural eyes)
Range Slect tool allows for audio level gain control within the timeline.
Match Color tool for color matching and syncing clips.
People and shot detection
Shot Stabilization on ingest
Audio cleanup on ingest
Native support for DSLRs, AVCHD, GOPro's
Pitch corrected audio skimming
View Keyframes within the timeline
What's great for me in Final Cut Pro X:
Let me just briefly share my thoughts on a few innovations I found particularly noteworthy:
–       No more rendering.
This sounds almost too good to be true, so let's just wait and see. It could easily mean that you will need a VERY powerful machine to do editing, because it constantly renders in the background, supposedly without you having to care about it at all. It raises the question where it leaves the rest of us with less powerful machines like Laptops. Though it will be good to finally see all of the 8 cores in my MacPro put to work for editing more than 2.5 years after I bought it …
–       DSLR-specific: Conversion of footage & audio synching, no more rolling shutter …
There are some areas where they really looked at what people are shooting with today and it looks like – fingers crossed – the DSLR shooting community wasn't overlooked this time J.
FINALLY, we will be able to take H.264 MOVs directly from our Canon DSLRs and edit it natively – that means there's no need any more for time- and storage-consuming conversion processes into ProResLT or other formats as we need to do it right now to be able to actually work with the footage in the current version of Final Cut Pro. It's supposedly possible to throw all kinds of different footage into the same timeline and Final Cut Pro X should be able to deal with it, without the need of re-rendering portions of it. This, too, sounds too good to be true, but let's just wait and see.
This will probably make the guys over at Singular Software (the inventors of the indispensible Pluraleyes software) quite nervous: Apple is going to introduce audio synching into Final Cut Pro X, meaning that it will automatically match waveforms between different sound sources, for example the built-in DSLR microphone with a second sound source (like the Tascam DR-100 or Zoom H4N that I use). This is exactly what Pluraleyes does, but it seems like there won't be any need for this separate $149 piece of software any longer in the future.
On a side note, Randy mentioned that there is also a way to get rid of rolling shutter. It's probably the same plug-in they built into iMovie '11 that I reported about before.
–       Media Management.
This is an area where Final Cut Pro had A LOT of catching up to do, and it looks like they tackled the problem from the right angle. Automatic shot size detection, facial recognition and smart folders, all features carried over from some of their "i" applications, are great to finally put to work in a pro application. To me, media management becomes more and more of a time eater when doing any editing work. Actually I quite often spend more time selecting and finding the right clips in Final Cut Pro than with the actual editing. That might be due to my perfectionism during shooting, meaning that I sometimes do way too many takes of the same shot, but in the end a piece of software should make your job easier in finding the right one, not worsening the pain – and I think they might just have taken a 180 degree turn here.



That's the future of Final Cut Pro … what about Final Cut Studio?
As great as I found their decision to finally do away with the old version and start from scratch to get ready for new challenges, I found it hugely irritating that there was absolutely no mention of any of the other programs from the Final Cut Studio suite.
In the past, Apple has notoriously covered up any lack of innovation in Final Cut Pro itself by adding more and more advanced programs to its Final Cut Studio lineup via acquisitions and re-developments: Soundtrack Pro, Motion, and so on. This time, there was absolutely no word on what is going to happen to these applications.
I had a chance to personally talk to Randy Ubillos briefly after the presentation and of course this was one of the questions I asked him immediately – but all he had to say was that "today we are only talking about Final Cut Pro X". That's a very "Apple thing to do", so we can only wait and see.
I actually think they are going to release Final Cut Pro X alone, and then they will add new versions of other programs – or even entirely new developments – step by step in the future. Final Cut Pro X is the most important piece in the whole equation, so it is a logical step to start with it, also because all of the other applications will not need that much re-development as most of them are more modern anyway. (Except for DVD Studio Pro – due to Apple's lack of support for BluRay discs, which is very unlikely to ever change, because they see the future in digital downloads, we most certainly won't ever see a new version of DVD Studio Pro again.)



Availability and pricing
Apple will start selling Final Cut Pro X in June for $299 via the AppStore only. The pricing is VERY aggressive and once again we can see that Apple is increasingly interested in selling more hardware through great software, thereby giving away the software for very little money. Of course selling it via the AppStore only, they will probably also make sure that piracy is being made almost impossible through their DRM system, causing even more people to simply buy it right away.
I will be the first in line for the new version and do a review of it as soon as it is out. I really can't wait for it to be released, I feel it can save me so much time with loads of the common editing tasks I face every time I sit in front of a computer. Will there be problems in the beginning? Yes! And I bet many will be annoying. After all, it's still a version 1 of an entirely new piece of software, so don't forget that. But Apple seems VERY dedicated to further development and so we can be certain they will do their best to enhance it even further – that's the feeling that I get, anyway. There will definitely a transition process where the old and the new version will live along next to each other on our hard drives. (Also because we don't actually know yet if or how it will deal with projects from old versions!)
I think they did a really got job in rethinking the editing paradigm, ignoring many of the things we have gotten used to from editing programs, while focusing on how to actually deal with content to serve a story better. It will need adaptation from all of us, but I think in the long run, we will all be happy with the changes as soon as it's really working as it's supposed to be 🙂 !
Final Cut Pro X is now available on the App Store for download:

What do YOU think?
What do you think about the new Final Cut Pro X? We have waited for it for SO LONG, so now that it has finally been publicly presented for the first time, what are your opinions on it? I would love to hear back from you after you have seen the presentation.
Please sound off below!