One Comment
Newspaper & magazine reports in "Kurier" & "Zoom Magazin"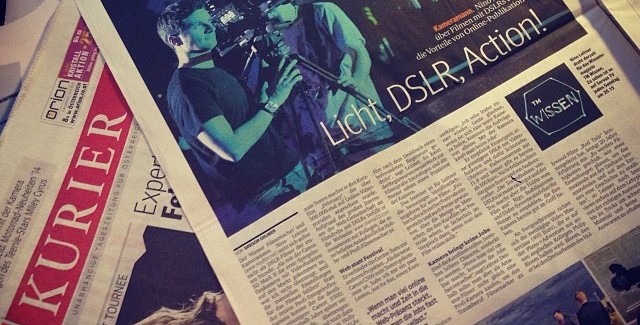 On

January 1, 2014

http://www.ninofilm.net
I am really proud that something about me and me work has recently been published in two publications – a full page about me in "Kurier", one of Austria's largest national newspapers, and several pages about one of our MōVI test shoots in Zoom, a videographer magazine from Germany, based on a long phone interview I gave them. Both reports are in German language, but I have translated the Kurier report because of several requests from friends and colleagues.
Click here to download the PDF of the Kurier report.
Click here to download a PDF of the MōVI test report in Zoom magazine.
Here is the English translation of the Kurier report:
Cameraman – Nino Leitner about shooting with DSLRs and the advantages of publishing online
The Vienna-based filmmaker and director of photography Nino Leitner (www.ninofilm.net) doesn't see himself as a DSLR shooter of the first hour: "When the Canon 5D Mark II was released, the first DSLR with a proper video function, I wasn't convinced about it because all the manual settings for filmmaking were missing." Instead of this expensive professional model he took on a considerably cheaper model, the Canon 550D / T2i, which was introduced one and a half years later: "It was cheap and also relatively compact." Even Hollywood increasingly started using DSLRs because of these reasons. In "Rush" they were used to shoot in the constraints of a racing car cockpit.
The 550D was also the start of his blogging career. With a preproduction model he shot the short film "February", which was watched more than 500,000 times on online video sites. Because of the huge interest of the web community regarding DSLRs he feeds the website www.cinema5D.com together with colleagues, and it has become a very popular place to go for hobbyists and professional filmmakers alike.
Web instead of festivals
He combines device reviews with other projects. "When the new Canon C500 came in for testing, I shot a proper short film with an entire crew, just for fun, with a script written by a director friend of mine," says Leitner. This way the director and cinematographer have new work to add to their portfolios while at the same time providing a useful practical test of the camera for the audience.
The Internet is Leitner's favoured publication medium for his films. "I used to enter films into festivals and also win some prizes. But the amount of people who see a short film at a festival is ridiculous to what happens when you put a good film online."
Camera doesn't produce jobs
When the short films are online, the chances of being discovered are higher. "When you do a lot of stuff online, the jobs almost come automatically," says Leitner. However that doesn't mean that amateur filmmakers should immediately buy a professional camera to pursue the dream career filmmaker. "Unforunately I keep seeing this: People think that if they buy an expensive camera, jobs will come. But with a camera you don't buy any jobs."
He recommends that beginners should start with an inexpensive DSLR with video function and rather invest in fast lenses. Prime lenses with f/1.8 and faster are available starting at 100 Euros. A good tripod and an audio recorder are essentials. "Audio recording functions of DSLRs are usually bad, but audio is 50% of a film." Rigs, stabilizers and slider systems are recommendable for shooters who already know their camera well.
The two-day Video Masterclass (EUR 495) which he will hold at the Photo+Adventure trade show together with his English colleague Philip Bloom is targeted at advanced shooters. Bloom, who he got to know on the shoot of the Hollywood movie "Red Tails", has 20 years of experience. "We will teach skills – for example planning of shots, to get most out of a tight shooting schedule," says Leitner. Interviews are also on the agenda: from lighting to the right way of asking questions so you don't receive "yes or no" answers.