17 Comments
On set of Lucasfilm's RED TAILS & meeting Philip Bloom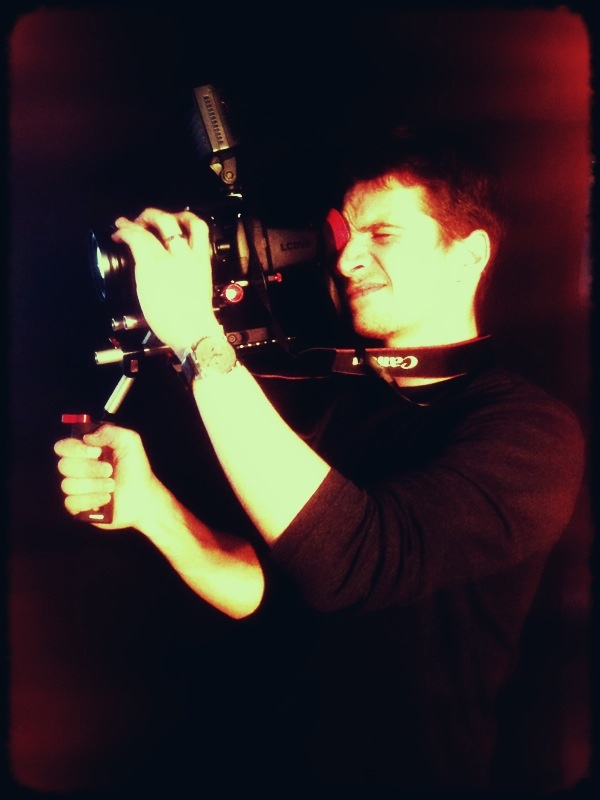 Last week I returned from a week-long assistance job for Philip Bloom on the set of Lucasfilm's new feature film production RED TAILS. Philip is 2nd Unit DSLR DP on the film. As he posted on his blog, we were shooting pick-ups for the entire week. I assisted him along with Sebastian Wiegärtner, a talented designer and DSLR filmmaker from Germany who I got to know over Twitter.
I can't tell you much about the shoot yet (only what Philip already shared), but want to share some of my experiences with meeting some amazing people.
Of course it was a great experience. It was a great pleasure to finally meet and getting to know Philip Bloom, who I have been following online – like many of you I assume – for quite some time now. I found his work online a long time before he got into DSLR filmmaking and when he was still considered the "master of 35mm adaptors" instead of the prime source of information for DSLR filmmaking that his blog is now. Because of his reviews and recommendations I ended up buying the superb Sony EX3 camcorder, but I have always been reluctant to buy 35mm adaptors for it due to the added size and loss of light. But then finally, the new crop of Canon DSLRs shooting HD video came along. Philip got into it and – as a professional DP with years of experience in the industry – really helped make these incredible cameras what they are now: tools that are accepted as sources for image acquisition even on Hollywood sets like HOUSE or Lucasfilm's RED TAILS.
Meeting Philip was a pleasure – he turned out to be the fun guy I expected him to be. As you can see with his timelapses from the RED TAILS set below, he always tries to make most of the time he has available. Nobody asked him to do something in addition to his tight schedule as 2nd unit DSLR DP, but he pulled of these amazing timelapses using his large array of cameras and some amazing new tools from Kessler Crane. Philip likes to share his knowledge and you can throw any film-related question at him, and he will have a very good answer for you in most cases.
Red Tails Timelapse from Philip Bloom on Vimeo.
I ended up shooting lots of behind-the-scenes on the set, and Philip gave Sebastian and me full access to his extensive collection of gear – cameras, lenses, rigs, you name it, it was there, and we used it as good as we could.
A great break from shooting on the Lucasfilm set was the meet up in Prague that took place on Wednesday. Met some really interesting people there and it's incredible to see how large the Video DSLR community has become in such a short amount of time. It was amusing to see how everybody in the room went silent once Philip stepped into the room ☺
A huge THANK YOU to Philip Bloom for the incredible experiences we were able to make during that week. I hope to be working with him again in the future!
We also met RED TAILS producer Rick McCallum, who also is an incredibly nice and down-to-earth person, and very accessible too. He is famous for producing many of the Star Wars movies, check out his IMDB page. I ended up chatting with him several times about the "DSLR revolution", filmmaking in general and the incredible bokeh of some of Philip's lenses in particular ☺
Therefore also a big thank you also to Rick McCallum for the chance to experience such an incredible shoot first-hand and especially for spreading his incredibly good karma on set!!
Last but not least I want to thank Sebastian Wiegärtner, great fun is to be had with this guy! Hope to meet him again soon, along with the other guys from the "German-language DSLR" gang from Twitter!
I can't go into greater detail about the shoot yet, but please do check out Philip's past blog posts about his experiences on the Lucasfilm set. I might be able to share more at some point, but right now I simply don't know when or if this will happen.
Philip's past blog posts on Lucasfilm:
• The tale of Lucasfilm, Skywalker Ranch, Star Wars and Canon DSLRs on a 40 foot screen!
• Shooting Canon DSLRs on a big movie set for Lucasfilm!
• Timelapse film from the Set of Lucasfilm's "Red Tails"
Please stay tuned to my blog as I will post an extensive review of a bunch of DSLR viewfinders that were very generously sent to me for review by B&H Photo Video in New York. Please check out their online store and what they have on offer – there is hardly any good camera equipment that these guys don't have in stock! Also, they are incredibly helpful and know a lot about their stuff. This is seriously a good place to order and I have only had good experiences with their customer service – which is something rare to find these days. That's why I trust them and order from them when I need to get something from the US.
I tested the Z-Finder Jr., the Cavision DSLR viewfinder for the 5Dmk2, the LCDVF, the Hoodman HoodLoupe and the RedRock Micro microFinder Loupe Accessory for the Hoodman. I used them on my behind-the-screens shoot of "Red Tails" as well as on an image film job across the UK (Manchester, Glasgow and London) a week earlier. Because of the fact that Philip has an early unit of the Z-Finder Pro, I was able to use this one on the "Red Tails" set as well (it will only start shipping in a few weeks).
Stay tuned for the blog on the viewfinders in the coming days!