53 Comments
Save terabytes of storage with your DSLR footage / tips for storage options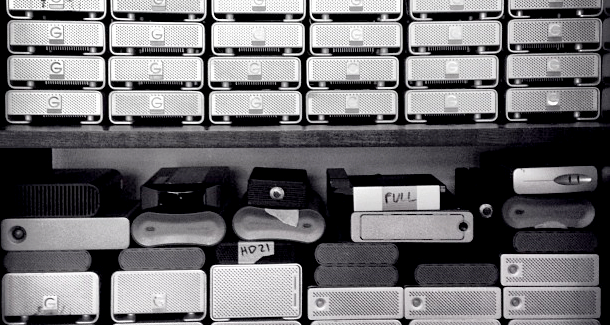 On

June 14, 2010

http://www.ninofilm.net
I usually don't blog about other people's blog posts, but this one struck me as so important to the DSLR workflow that I just couldn't resist sharing it with you.
Twitter is an invaluable source of useful information. It is social media at its best, and good news travel fast (you can follow me on Twitter here). Mario Feil, a fellow filmmaker from Germany, is one of the people I am in frequent contact with via Twitter, and he had this incredible idea of how to reduce the immensity of data we have to wrangle when we shoot DSLR video.
It isn't only due to the size of the native footage that we are stuck with lots of data – it's because of the fact that we can't edit the native footage in its native H.264 form and have to convert it. Most editing platforms just can't handle it because it is just a finishing format essentially.
So we follow tutorials like this one to convert the footage into an editable format like ProResLT and therefore create huge amounts of additional files of the exact same footage. You got everything twice as a result, and oftentimes the converted files are larger than the originals, depending on the codec you use.
So you will only edit the converted files but always keep the original files as they are your master files – and every converted file will have to lose a little bit of quality of course. Never deleting the native files is essential to be able to always fall back on the maximum quality that you have available.
BUT there are good news: you can delete something else and thereby save hundreds of gigabytes or even terabytes of data.
Free up terabytes of space on your hard drives
Mario Feil's approach is as simple as it is brilliant, here's the short version of how he does it:
When you are done editing your project (using the converted H.264 as ProResLT or other formats), you can delete or move your converted ProResLT files (or whatever other format you are using for editing) and re-open the Final Cut Pro project. Of course, the application won't find these files as a consequence and ask you to reconnect the media.
When you reconnect, you simply refer to the NATIVE files instead of the converted files – both should have the same names and lengths, their only difference should be the codec within the .mov-wrapper.
Et voilá!
Final Cut Pro will automatically connect everything with the native files and you can re-render all effects right onto them, guaranteeing you the best possible quality from your DSLR footage while saving you possibly hundreds of gigabytes of converted data.
Should you ever need to change something about the edit later on, it should be quite easy to re-convert all the native footage into an editable format again and reconnect the other way round.
Please do check out Mario Feil's new blog for details on how to do it, it will save you several harddrives if done right. I have just saved 400 GB from a recent project – it's just incredible.

Storage options for DSLR video footage
By the way: I get often asked how I store my footage. Let me explain you briefly.
The rise of solid state media recording has given us many blessings, cheaper cameras without flimsy mechanics and things like higher framerates for slow-motion recordings – all of which was just impossible with tape-recording camcorders only a few years back.
The biggest downside to that way of recording, however, is that you have to think hard about how to store your footage properly. Hard disks are mechanical mediums as well and if they fail – and boy, they do fail from time to time – a lot more footage is lost than it would be with a broken tape recording. Therefore, backing up is essential.
Different people use different approaches to save their footage, but in essence, you can't get around HDDs as affordable ways of saving your data. Many people use RAIDs, which combine several hard drives into arrays that offer increased storage reliability through redundancy. The problem with RAIDs is that they are usually expensive and often not very portable – so when on the road with your DSLR and laptop, you don't really want to bother with a device of that size.
There are very nice exceptions though:

I also had my share of bad experiences with external hard drive enclosures. Some manufacturers build their enclosures in such a way that you can't swap hard drives – if you do, you can't read out the data anymore, believe it or not. Happened to me with an external Maxtor enclosure. My only option would have been to go to expensive data recovery services, and they charge per megabyte.
Another problem with external hard drives is that they change the shape and form of these things every few months, and if you produce around 1 TB of video data per month like I do, this can get annoying VERY quickly. Also, different drives have different connectors, you end up with USB2.0, Firewire 400, Firewire 800 and eSATA at the same time. Extremely tiring, with miles of wires and leads you have to carry along.
So what is the other option?
It's a very simple and affordable alternative: an external hard drive dock!
You take any industry-standard 3.5″ internal SATA hard drive and just stick it into the dock, and it will mount. These docks are available with USB or eSATA connectors, and I prefer the latter for the most speed you can get (same speed as internal drives, actually). I just bought an eSATA expansion card for my MacPro to make it work, but USB is fine too – and some of the newer ones already support the super-fast USB3.0.

QuickPort Duo on Amazon.de, on Amazon.co.uk
The great thing about this solution is that it is simple and very affordable. You can shop around and get any internal SATA drive you want for the dock, stick it in, format it, done. All in all the dock including the hard drive will cost you less than one external hard drive, but after you purchased the dock, you only need to purchase new hard drives as you produce more and more data. I have a closet full of hard drives now, every single one neatly labeled and numbered, with a database on my computer telling me on which drive I can find which recording.
I use the QuickPort Duo that gives me the chance to connect two drives at the same time via eSATA. One of them is my backup, so I mirror the contents of one drive onto the other. When the mirroring is done, I edit from one of the drives. If one drive should ever fail, I still got the other drive with the exact same content – I could continue working right away.
Of course some people think it is not a sturdy solution like external hard drives are – that might be partly true as the hard drives aren't protected when they are sticking out of that dock. However, there are protectors available for this, and I have never ever had any problems with this solutions in the almost two years I have been using it now. It's also quite portable and the docks are so cheap that you could buy one for every location you frequently commute to.
I currently use countless Samsung 1TB and Western Digital 1.5TB drives with my dock, and not a single one of them has failed. My personal opinion is to stay away from Seagate drives for now as they had massive failings some years ago with some firmware glitch (they have resolved that issue, but they haven't regained my trust yet).

Western Digital HDD on Amazon.de, Samsung HDD on Amazon.de
Western Digital HDD on Amazon.co.uk, Samsung HDD on Amazon.co.uk
As I said, different people use different solutions. I know many people (like Mario Feil, for instance) who love the Drobo, a NAS device that offers automatic backup and data migration and a lot of security for your data. The downside is that it is slow and bulkier than my solution, but probably even more secure.
What do you use for storing and backing up your data? I am very eager to hear what other people use as people should be aware of all the good options. There is hardly anything more important than data security.
We should never forget that what we produce will not be here forever, but we can at least try to make it last as long as we can. So what's your solution?