No Comments
Woodclass – "4K Cinematography Workshop" in Germany in August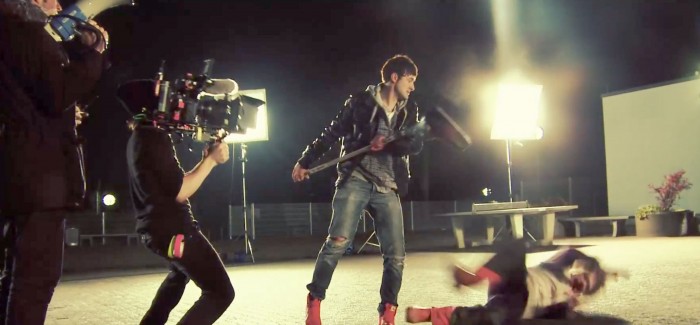 On

June 14, 2013

http://www.ninofilm.net
My friends Karl Krings and A.F. Marcotec have asked me if I want to co-host a very special 3-day workshop (August 15-18, including arrival day) during which attendees will create an 10-minute-film following a given script. My fellow tutors will be Sebastian Wiegärtner, Karl Krings, Lawrence Richards and Horst Herzog.
It's similar to our own Filmmaking Masterclass concept but it's still unique because there will be 5 groups with 5 persons each. 4 groups will be shooting and 1 group will be editing – but the groups will be rotating constantly, so it never gets boring – and each group member will experience each team position.
Another specialty about this workshop is its setting: It's embedded in the renowned "Sound of the Forest" music festival in the Odenwald, which is great scenery to shoot and really go crazy 😉
A.F. Marcotec will make sure that all kinds of gear and toys will be there to play with. All the films will be shot on 4K cinema cameras.
The workshop will be held in German and English – so it's fit for participants from almost anywhere.
For all the details check out the press text and details below and don't hesitate to get in touch with me or the organizers if you have any questions.
Click here for the official website. The workshop can be booked at A.F. Marcotec.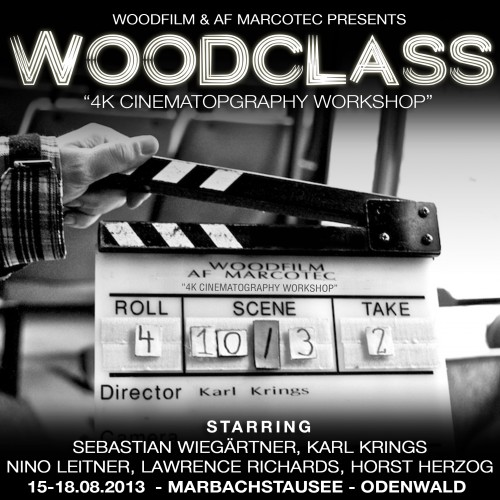 Sound of the Forest*" music festival is located at Marbach lakeside in the middle of Odenwald Germany.

With its 5 square kilometer land, spectecular live shows, international artists and more than 5000 visitors it becomes the phenomenal background scenery for the WOODCLASS "4K cinematography workshop" 2013!

We welcome 25 WOODCLASS attendees who are tought by well known DoPs and Filmakers like:

– Karl Krings from Bad König, Germany
– Sebastian Wiegärtner from Nuremberg, Germany
– Nino Leitner from Vienna, Austria
– Lawrence Richards from Wiesbaden, Germany
– Horst Herzog from Darmstadt, Germany

Get known with a real 4K cinema film set and learn how to set up scenes, set light and use the most important professional film equipment.

Create your 10min short movie together with the PROs from the film business. Your work and your name will be shown online, offline and on national & international film festivals.

"…there is no other wokshop on the market to compare with…"(Nino Leitner)

"…a workshop like this was never done before…"(Karl Krings)

Facts:
• 15.08.2013 – 18.08.2013 – Marbachstausee Odenwald
• "sound of the forest" music festival scenery
• short film shoot in 4K
• working with actors, screenplay and storyboard
• Minimum 0f 20 participants, max of 30 accepted.
• DoP and teacher: Sebastian Wiegärtner, Karl Krings, Nino Leitner, Horst Herzog, Lawrence Richards and professional assistants.
• use of 4K cameras
• use of tripods, cranes, dolly, sliders and steadicam
• use of follow focus, filters and matteboxes
• set light and reflectors for 4K digital film
• framing 4K widescreen (cinemascope)
• creating cinematic look in camera
• use of anamorphic and flat aspect ratio
• editing 4K RAW native and in realtime
• handling 4K RAW digital film data and backup solution

WOODCLASS 2013 PACKAGE 1 includes:
– Full three day Workshop
– Full three day festival pass »Sound of the Forest 2013«
– Camping space available

WOODCLASS 2013 PACKAGE 2 includes:
– Full three day Workshop
– Full three day festival pass »Sound of the Forest 2013«
– SPA Hotel (Hotel Zentlinde http://www.zentlinde.de) incl. breakfast
– Free location shuttle service