One Comment
New PortaSlider from DitoGear: Some questions answered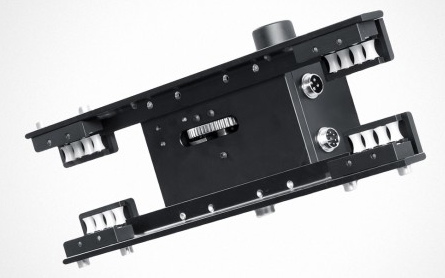 The guys behind DitoGear have surprised me with another new slider that was just released to the market, the PortaSlider. Well, before you dismiss it as just another one, get this: It's possible to put several of them together to create a really long track, check out the video above. I haven't used it yet, but it sounds like something compelling for sure.

That somehow takes the slider concept to a whole new level: Assembled in a row, it is more like what a dolly does than the relatively short distances we're used to from usual sliders. However, I had all sorts of questions about the product when I first heard about it, that's why I asked Patryk Kizny from DitoGear:

1. Interesting concept, how did you come up with the idea to make such a long slider?
Patryk Kizny:
The idea of a modular slider has been with us for a very long time. Also, we've got a tlot if inquiries regarding those so we decided to go for it.
2. Why 14 meters?
Well, actually we purchased out the entire stock at local IGUS reseller.
Technically there are no limitations for building a 200m slider as well as shorter units like 2, 3, 4 meters.
We wanted to push the concept to the limits and see how it all performs in really demanding conditions – you wouldn't be able to notice some potential issues at 2-3m unit, but you do with 14m.
3. I understand it started as a budget entry-level slider concept. How will you sell this thing?
Yes, our flagship product, the DitoGear OmniSlider is a really advanced product, but some people just want to spend less money and get the basic features needed for shooting timelapse. But sometimes also for professionals it is important to go modular for travel.

The slider will be sold in bundles, but you will be able to purchase additional track anytime, there will be also 2 different trolley options as well as an option of connecting our current DitoGear™ OmniSlider Controller to it to get the richer set of features.

Of course there is a lot of accessories so that you may get what you need and what fits in the budget.
4. I've been reviewing and using your Omnislider for quite a while now. What are the key differences between those two?
Main difference is completely different design approach and modularity.
Also, the features set is different if you use a built-in PortaSlider controller – PortaSlider implements only the timelapse features and really basic video mode.

The basic timealpse features remains the same even if you go on with the basic built-in PortaSlider controller – there are 2 timelapse modes: continuous and drive-shoot-drive, there is shutter control, position readout and auto stop at the end. Of course you may control speed, total timelapse time, number of shots, interval, exposure time.

If you need more features you may connect DitoGear™ OmniSlider Controller to PortaSlider.
5. In the video, it looks like you are using a standard IGUS track just like the Glidetrack designs. Is the track the part which allows you to make it cheaper?
We wanted to make the system affordable, but not compromising on quality. The IGUS-based systems have some bad fame, mainly due to common disappointment about Glide Track. However, it is not the profile design that is the weakest point, but the trolley sliding parts. The profiles are in fact very high quality and are useful. We're fully conscious of these problems and we address them 2 ways: first of all, IGUS released a new sliding parts design which is equipped with small wheels inside. That makes the system much smoother. We use them in the basic version. At the same time we have a custom made trolley design which is much more precise and also designed to compensate for joints imperfections and track bending.
6. I really can't get my head around how you managed to make a motorized slider which moves over several tracks … how do you power it? Is the carriage completely independent? I guess there is no rubber belt inside the track like on the Omnislider, right?
Yes, the rubber belt was not possible in this case. Traction belts are integrated within the rail.
With the very long slider there are some power issues because you have to follow the trolly with the battery. We're thinking about addin a mini battery that would travel on the trolley so that it is completely independent. The great thing is that if you rotate the trolley it may be moved manually.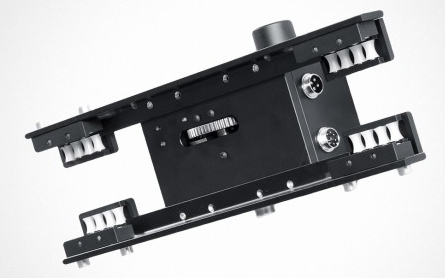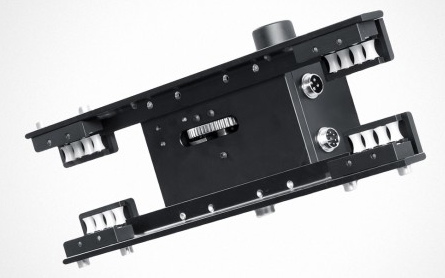 7. Where do you see the application of this slider? In my opinion, it opens up a lot of possibilities for landscape and architectural timelapsing, but I guess it will always be difficult to keep the track outside the shot, as there are similar problems with track dollies (but using those the camera is obviously positioned much further away from the track, making it a bit less of a problem).
Definitely landscape and architecture. This is not a tool for shooting features.
Visibility of the track is an issue only in case you shoot along the track (dolly push/puss shots) and with wide angle lsenses.
Otherwise it is not an issue.
8. I think a motorized – or even only manual – slider on a flexible track would be an amazing tool … do you think you guys would be able to built something like this? I have been using a prototype of the upcoming CamDolly v2 lately, and the rubber tracks are just plain awesome … so I imagine it would be great to have a smaller unit like a slider to achieve results other than on a linear path!
Actually, we have somtthing different in development. I wouldn't like to disclose details now, but it will be awesome.
9) What will the Portaslider go for?
USD 1200.00 basic version with 1m track
USD 1400.00 basic version with 2m track
DitoGear have kindly offered a 5% discount code, but only for the first 5 orders of the PortaSlider:
Use the code PORTA5 when checking out of their web shop to get the discount.