One Comment
IBC round-up, my hands-on take on the Canon C100 on video (with Den Lennie & Guy Thatcher)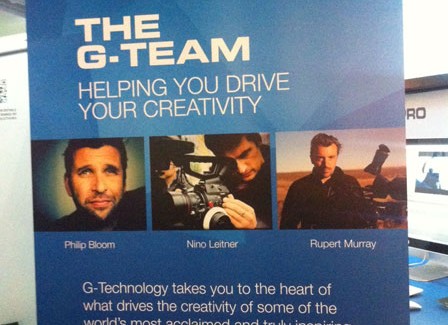 On

October 19, 2012

http://www.ninofilm.net

I know, IBC already wrapped a while ago, but I've been on the road for several weeks after that, with loads of shoots and projects that I am going to report about one-by-one. But first of all, let's catch up on the noteworthy stuff you missed at this year's IBC in Amsterdam.
C100 & C500 hands-on
First of all, it was hands-on time with the new Canon C100, Canon's promising budget cinema camera which I already talked about here. And here is the official C100 film by Sebastien Devaud, a very talented and, more importantly, very nice French shooter that I had a lot of talks with during NAB and IBC.
My buddies Den Lennie from F-Stop Academy and Guy Thatcher from hireacamera.co.uk interviewed me about my take on the C100 – here it is:
Canon C100 at IBC2012 from Hireacamera on Vimeo.
I was really positively surprised that the C100 "feels" like a C300 … they used the same material and didn't compromise on that at all. Also, the same sensor … and all that in an even smaller form factor. Not bad at all. Sure, inferior codec and no HD-SDI, but to be honest, it will be enough for a lot of people! Especially considering there's clean 4:2:2 out from the HDMI port. One big advantage over the C300: The C100 has an internal microphone in the attachable grip!
I also had a chance to play with the C500 on the stand for a while. It was a working pre-series model just like the C100. The C500 is a camera that is strikingly similar to the C300, except for the missing grip, which is kind of replaced by a lot of ports that allow for 4K output 🙂
C500 – LENS EXCHANGE button
One HUGELY important addition to the C500: One of the assignable buttons now reads "LENS EXCHANGE". Why is that important?
Well, you might have heard of one incredible problem of the C300: When you switch lenses with electronic shutter control (that means all Canon lenses and many third party lenses), and forget to turn the camera off, a fuse within the camera might pop and result in a "bricked" camera. That fuse can be replaced by Canon Professional Services, and no-one else. It needs to be done when that happens, because otherwise the camera is dead. And guess what, of course that happened to me, when I was shooting this music video (click here). I knew of the problem before but it still happened to me because I thought the camera was off when it really wasn't. I had to send it to Canon Germany and got it back within a few days, and their service was very uncomplicated and great, I might add. But this is still a major problem.
So it's great Canon included the LENS EXCHANGE button on the C500, which was able to try out: It's basically a very quick way to put the camera in some kind of sleep mode (it shuts down very quickly), allowing you to taking off and putting on the lens right away after that. When you press it again, it powers back up very quickly again.
So yes, you STILL have to think about it before actually switching a lens, but at least it saves you some time … not an ideal solution, but considering it's probably hardware related, not much else they could do, unfortunately.
Sachtler Ace L
I was involved in the development of Sachtler's new tripod, the Ace L, via feedback during the process – and IBC 2012 was the moment it was finally unveiled. It's basically the bigger brother of the Ace M, which was introduced last year. The Ace L head takes up to 6 kilograms of payload, that's 2 more than the Ace M. It also always comes with carbon fibre legs, which is a huge plus if you ask me – it is more pricey because carbon fibre is simply expensive to produce, but I think it is worth it as you don't compromise on the head's weight advantage by using heavy legs – getting the Ace L means you get a package that is entirely lightweight, and that is more and more essential for filmmakers as cameras become smaller and lighter too.
I am not going to spill too many beans here, because I will be posting a full Ace review soon, covering all the Ace versions available so far. I know the thing really well and I really like it … that's why Sachtler invited me again to working for them at the Vitec booth talking about the product.
Here's me showing the benefits of the product in the official Sachtler product video:

Vitec IBC mini workshops
I also did two so-called "mini workshops" for Vitec Videocom at their stand, one dealing with "two different approaches at narrative filmmaking" and the other one with "basic DSLR gear". You can watch both of these online by registering on the Vitec website.
I also did talks for G-Technology, talking about my work and tying it in with storage solutions. They filmed one of the talks and are going to put it online soon – I will post the link once it's up.
Arri L7-C lighting
My friend Sebastian Wöber from Cinema5D did a great job covering the most important news from IBC 2012 with videos from the floor, check them out by clicking here. Most noteworthy to me is Arri's new lighting series, the L7-C, which completely blew my mind and really shows what the future of LED lighting looks like. Can't wait to test those.
IBC 2012 – Arri's L7-C – the light fixture from the future from cinema5D on Vimeo.