43 Comments
Rolling Shutter fix in iMovie '11 The feature Final Cut Pro users have been waiting for?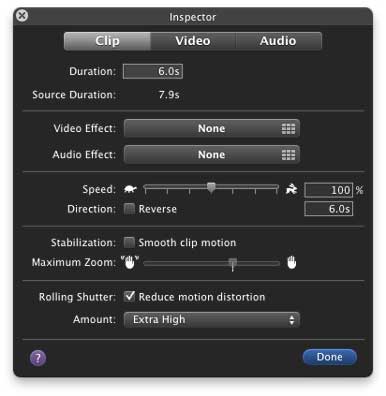 You've probably heard about the amazing-wonderful-phenomenal Apple "Back to the Mac" event that took place on October 21st. At first sight, it was a rather insignificant event for us professional filmmakers, with a preview of the new Mac OS X Lion (which is taking a lot of its new features from iOS), some new MacBook Airs and the introduction of iLife '11.



Part of the iLife '11 package is of course iMovie '11, a revamped version of Apple's amateur movie editing tool. I really don't want to talk iMovie down – it's amazing how they are able to include more and more complex editing functions in such a little and easy-to-use programme, and one of the first editing programmes I used was iMovie 1.0 on my iMac DV Special Edition, still running on the awful Mac OS 9. It is however frustrating to be a professional Mac user these days as Apple makes more and more money with their iPhones, iPads & iDontknowwhat, while neglecting development on an ever-aging Final Cut Studio suite (the last update was a joke). But enough on that, don't get me started!!
Anyway, you might be wondering why I'm talking about iMovie here, which is by no means a professional programme. To make a long story short, they introduced great features that would make a hell of a lot of sense in Final Cut Studio too. I'll just talk about these two features, although there is much more to the new version (but the rest is mostly irrelevant for pro's, though the automatic movie trailer edit presets might be fun as a joke).
First off, there's the People Finder, which identifies clips that contain people. That might not sound like a big deal, but having something like that would seriously help save time when logging and organizing clips before you actually start to edit – and pre-selecting clips in a huge project is the work I really don't like to do.
People Finder doesn't stop there, though – iMovie is obviously able to differentiate between full shots, medium shots and close-ups, and THAT is seriously a massive time-safer. As you certainly know, especially in narrative projects, the same scenes are often shot in different shot sizes to give the editor and director more choices in post-production. Organizing this stuff is a huge pain to me and having an auto-shot-size-selector would save even more time than a People Finder.
Check out this demo of iMovie '11 and features like People Finder during the "Back to the Mac" special event – jump to 00:29:39 to go directly to the iMovie '11 introduction!

Yeah, I finally get to the point of the post (sorry, I always save the best for last!), which is apparently a rolling shutter fix for footage that was acquired with cameras sporting a CMOS sensor (that means virtually all modern video camcorders and especially all the DSLRs – check out my blog post on the problems with DSLRs for a definition of "rolling shutter" aka "skew" aka "CMOS wobble"). I have demonstrated  the rolling shutter effect of the Canon T2i/550D in an – admittedly extreme – clip:
The rolling shutter fix apparently is a purely mathematical solution for this problem and doesn't need to re-analyze the footage. Therefore the results vary depending on the kind of footage. I haven't tried it yet, but will do so shortly and will try to correct the T2i/550D rolling shutter clip from above.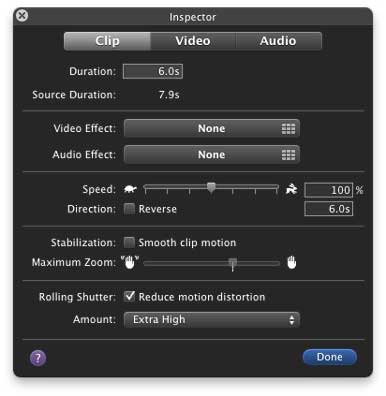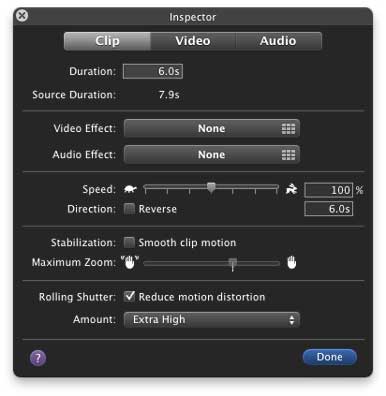 There is a software plugin from The Foundry that does a great job of reducing rolling shutter / skew very efficiently (using After Effects or Nuke), but it's $500 and therefore clearly way out of budget for many DSLR shooters.
Be sure to check out Macworld's review of iMovie '11, they already posted this clip with some uncorrected footage suffering from the rolling shutter effect, followed by the corrected version. It sure looks good to me!
I'll post an update to this blog once I've tried it myself. I know there are reports of many bugs with iLife '11, but as usual, Apple will eliminate those within weeks. If it works like it's supposed to, the rolling shutter fix alone is worth using iMovie to correct all clips suffering from this problem and re-importing them in Final Cut Pro afterwards!!
For now, I can only say once again: Apple, PLEASE give us a noteworthy update of Final Cut Pro!! I still love it, but it still has tons of bugs (many of them since version 1.2.5), annoying render and file management, and it misses out on so many great features that the competition like Adobe's Premiere is very quick to implement … introducing a rolling shutter fix in Final Cut Pro would be a GREAT start to improve the software.
UPDATE October 31st, 2010:
I tried the rolling shutter fix with an old shot done with my T2i/550D (check out the original post here, I posted it as part of the T2i/550D review), and it worked out well:
Philip Bloom tested the Rolling Shutter Fix in iMovie '11 after I pointed it out to him, here is a little tutorial video with a comparison between the unprocessed and the processed images without the rolling shutter effect: