5 Comments
A first glimpse at the upcoming Z-Finder EVF from Zacuto
Check out this look at the upcoming Zacuto Z-Finder EVF, that competes with Redrock Micro's microEVF that will also be released shortly!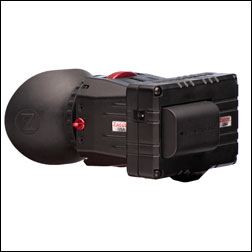 I will definitely have a long, hard look at this thing, it looks amazing and I will probably order one! It's also great that you can use your existing Z-Finder with it … that's definitely a good sign for all those who already invested in this viewfinder, which is still one of the best on the market.
Sign up for the reservation list like I did if you're interested as Zacuto gear has been known to sell out VERY fast in the past … it will be available in February and sell for $775, but check out all the details from the Zacuto press release below the video.

Here's the press info directly from Zacuto's website:
Zacuto is changing the game again! We are transforming the form factor of DSLR cameras for video use with our Z-Finder EVF. The Z-Finder EVF is a 3.2" high resolution monitor that will be used in conjunction with all the Z-Finder models. The Z-Finder EVF allows you to operate the DSLR camera with the correct form factor for video with the camera "in-line" to your rod system (the most stable way) and your eye in the Z-Finder EVF. This is the way all film cameras and ENG video cameras were operated and we, at Zacuto, believe this should be the way DSLR cameras should be operated. It will enhance the stability, give you better resolution, allow you to get your eye where it most comfortably needs to be, enable low mode shooting, have your EVF in the back of a dolly or crane, detached from the rig for car shots and more.

Actual 16×9 screen
800×480 resolution
.087 dot pitch
Focus Assist
Iris Assist
HDMI loop through
Operates off Canon LP-E6 Camera battery (1/2 day power)
Includes a hot shoe mount or optional articulating arm kit.
Can mount to other manufacturer's rig (RedRock, Cinevate, Letus, etc.) via 1/4 20 screw, 15mm rod or articulating arm
All Z-Finder models snap on and off the EVF and can be used interchangeably between the camera screen or EVF screen
Includes mini HDMI cable

Zacuto Z-Finder EVF 3.2" monitor has higher resolution than DSLR LCD screens. These screens have a resolution of 640×480 on a 3:2 aspect ratio screen. Therefore, you only effectively see the resolution at 640×360 in 16×9. The Zacuto Z-Finder EVF monitor resolution is a true 800×480 making the resolution 56% greater than the on-board DSLR camera screens. The Zacuto monitor also has a tighter dot pitch which also improves the quality, making you see a much tighter pixel pattern.

The Z-Finder EVF is currently in prototype stages. It will be available in February 2011 (limited supply) and we are estimating the price to be $775.00. We will be updating customers who are interested along the way with news and videos. If you are interested in receiving information about this product, feel free to fill out our form below. We will be taking deposits in December for customers to hold their spot in line; you will be notified via email.

UPDATED October 08, 2010: New Zacuto video about EVF ergonomics: