46 Comments
Beware of Sony XDCAM EX firmware update – EX3 bricked due to software malfunction, Sony "Prime"Support denies to repair damage, repair costs almost €2.000 …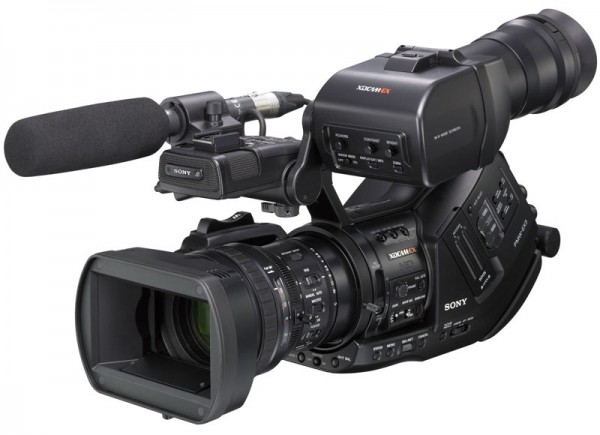 ADDED April 01, 2010:
Got message from the repair center that – I'm not fooling you – as an alternative to the much more expensive repair, they can ship the camera off to the factory of Sony Japan (!), where it is somehow possible to flash the firmware (don't ask me why there's no way this can be done here). I won't have the camera for ANOTHER 3-4 weeks 🙁 but it costs 'only' around €350! So I went down that route. I think there is just no way at this point that Sony will do it at their own cost (including loaning me a cam). I'll keep you posted.
Until I get it back, I will continue to rely on rented cameras and try to use my 550D more for professional productions. Sounds interesting, but in practice it's hard to do I think, for many jobs …
ADDED March 29, 2010:
Just got word from the repair center that the repair will set me back exactly €1.752,50 / $2.362. WHAT. THE. F***. The entire DPR board needs to be replaced. Whatever that is.
I'm very sorry, but today I have to offer you a RANT – I need to get this off my chest and you are the ones I have to share my frustration with.
Let me sum this up as briefly as I can:
One week ago, Sony surprisingly released firmware updates for their EX line of camcorders and video decks. I was stupid enough to jump on it immediately to get the upgrade for my $8.500 EX3, and very carefully went through every step of the upgrade process exactly as described.
It went fine until the end, when the upgrade tool crashed and my EX3 wasn't recognized by the computer anymore – after running out of options, I tried to reboot the camera and it has remained dead ever since.
I was happy to have the premium 2-year Sony PrimeSupport with my camera, but they immediately told me that they are not liable for any defects resulting from use of the upgrade. It obviously doesn't matter at all if Sony failed miserably at programming a tool that works for everyone.
Well then, who's liable? For the first time ever, they supplied a firmware upgrade tool to the end customer in order to save money for their service centers, which had to service all the cameras in the past once a firmware upgrade was released.
I was desperate and went to a professional service center specialized on Sony Broadcast products. They were very helpful and agreed that Sony should cover for it if it's their fault. They have my camera now and have been trying to find out for almost a week now what exactly the problem is. They even escalated the problem to Sony Japan to narrow it down.
I only feel that this will get very expensive (a hardware circuit board might have to be replaced), but I feel I can only be blamed for being naïve and trusting Sony when they release a firmware upgrade.
I am already losing money on a daily basis here, as the EX3 is my main camera and I have to rent replacement every time I can't use it.
So please be very careful when you update your EX1 or EX3. If you share my frustration, write to PrimeSupport@eu.sony.com and let them know what you think of this very unacceptable policy. Make yourself heard!
If you are interested, after the jump you can find the entire detailed email I wrote to Sony PrimeSupport before being advised once again that basically everything is your own fault with regards to firmware updates because their EULA says so.
I'll keep y'all posted on further developments.
EDIT:
Forgot to mention that others have the problem too:
http://forums.creativecow.net/thread/142/870022
Not too many have yet made the upgrade, so the number of failures is very likely to increase once more people try to do it!

Vienna, March 12, 2010

Dear Sony PrimeSupport,

I've been a satisfied Sony Pro client for quite some time now, and I was especially very happy with everything you had to offer with the XDCAM EX line of camcorders.
After carefully considering all the options, I jumped aboard the XDCAM EX train enthusiastically over a year ago. I bought an EX3 for €8.500 and haven't regretted that choice ever since, despite the fact that this is a huge amount of money for a young film producer / cameraman like me. It has enabled me to deliver quality that was just unthinkable only a few years ago.
Influencing in my decision was also the fact that Sony seemed to include a very comprehensive support programme with PrimeSupport. I got 2 years of PrimeSupport with the purchase of my camera.
However, my positive impression with Sony and its service has worsened significantly in the recent days.
But let me start at the beginning:
In order to save costs for the rather expensive SxS media, I have been using SDHC cards as a cheaper supplement / alternative to the SxS cards since I purchased the camera.
For that very reason I was very excited after I heard that Sony released a firmware upgrade to the EX line this past Monday (March 8, 2010) that enables Sony's very own SDHC card adapter to work, and supposedly even allows the cameras to record overcranked (higher frame rate) footage to be recorded on some SDHC cards. This was really big news for me, because I was always forced to use my two 8GB SxS cards for these recordings.
I discovered the upgrade just hours after it was made available, and read a few forum posts on the matter that sounded rather good. Some people reported of strange behaviour of the upgrade software (e.g. being forced to reboot the camera midway of the upgrading progress, or sometimes the process was interrupted and they had to try again), but in the end it worked out for all these people.
Naïve as I am, I decided to go along and do the upgrade. I even decided to read all the Sony small print (license agreement etc.), that clearly states:
"CAUTION : This s/w should only be installed by using the installation instructions supplied with the s/w. Failure to follow the instructions may result in damage to the unit. Do NOT switch off the power or disconnect the USB cable during installation."
(EDIT: I was only later made aware of the fact that Sony's EULA that comes with the upgrade tool quite clearly states that they, basically, don't care about what happens with your camera if you let it get bricked by their tool).
(I did all that, I only re-booted the camera when I was asked to during the installation and after the installation was 100% completed – but more on that later.)
I was aware of that and I understood all that, so I moved along.
I downloaded the package, carefully read the instructions twice in order to be sure I do everything right. I am 100% aware of the fact that firmware upgrades are a serious matter that can harm the hardware if done wrong. So I needed to be absolutely sure of what I was doing. After I was confident that I understood everything in this description, I started the upgrade tool.
I use a Mac, and after double-clicking the Mac version of the tool, nothing happened. I tried several times, but the tool just didn't launch. At this point, I got a suspicious feeling for a second, but dismissed it immediately. Sony wouldn't release a firmware upgrade tool if it wasn't 100% safe, I thought to myself. I thought something in my system configuration was faulty. (It wasn't – I later read a forum thread where lots of other people reported of the same problem on Macs). I should have listened to my feeling and stopped right there.
But I decided to use the Windows version of the upgrade tool. I installed it in Windows. No other programme was running at the same time, the system configuration was perfect for the installation.
It worked, and I plugged the camera in via USB and it was recognised by the programme. Step by step I followed the instructions that I had so carefully read twice. Everything worked fine – at around 50% of the installation, I was asked to reboot the camera, which I did. The rest of the firmware was installed without any problems.
In the end, I had to click on "Exit" to finish the installation. I did just so – and the tool immediately quit or crashed. I wondered, because the camera was still in update mode. I was not entirely sure if this was the normal way for the software to quit or not. The instructions didn't help me either, because this was the last step of the process anyway. The strange thing was that the camera still had its red light on.
So I did what everybody would have done: I restarted the tool. It launched, but the camera was not recognized. I quit and tried again. And again. Nothing. The computer did not recognize it at all.
I unplugged the camera and plugged it in the USB port of the computer again. Nothing. I tried other USB ports, restarted the tool and even the computer: still nothing.
I read the troubleshooting pages in the update tool manual, but nothing like this was mentioned. So at this point I thought that this might be just normal behaviour of the camera and I'm just overcautious. I thought it was required to reboot the camera, that means effectively switching it off and on again (just like I was asked in the middle of the process). The process was done after all, the firmware upgrade tool has finished its process – so it seemed.
So I did just that. I switched my EX3 off. I switched it on again. And nothing happened. The red light went off when I switched it off, but the camera didn't boot when I switched it on again.
I was a bit desperate and tried calling the Sony PrimeSupport hotline for Austria. I only got an automatic response message saying, "This number cannot be called from your connection."
I was confused and called Sony Austria. I was told the hotline works just fine. I called my mobile phone provider to ask why I wasn't able to call the PrimeSupport number, and after one and a half hour of being re-connected I finally was told that the Sony PrimeSupport hotline can obviously only be called from landlines! Which is kind of a problem as in Austria most people (like me) just don't have a landline any more because nobody really needs it anyway (and mobile phone rates are cheaper). I was told this was the decision of the hotline provider (Sony). Why would this hotline (operated at local rates) only be reachable via landline anyway??
So my girlfriend called the hotline from work and explained the problem briefly. Of course she is no expert on the subject and therefore she asked the woman at the PrimeSupport helpdesk to call me back on my mobile phone. She declined and immediately stated that the warranty was not valid with regards to firmware upgrades. Quite clearly though, the license agreement only states that the warranty is only not applicable if one doesn't completely follow the firmware update instructions. But I did follow it 100%, but in the end the update tool just failed to exit the camera out of its firmware upgrade mode!!
So how come PrimeSupport won't cover for this?? Quite clearly, I obviously can expect the software work the way it should, and if it doesn't due to bad programming on Sony's part, it is clearly not my fault!
Nobody would blame the customer if for example somebody buys a standard PC and installs Windows 7, and then the computer totally breaks down due to a bad installation routine!
I paid good money for my PrimeSupport warranty when I bought this camera, and all I get now is a brash rejection for something that is quite clearly Sony's fault.
It was already shown by the failure of the Mac version of the upgrade tool (that obiously doesn't work for many other users too) that quite clearly this tool is not ready for market. So Sony cannot blame the client if it corrupts the camera even if he does everything 100% in the exact way as explained in the instructions.
This is really unfair behaviour and it seems to me that Sony is just trying to give the burden and all the risk of these upgrades over to the end customers, in order to save some money, because no Sony Service Center has to do the update for them (as it used to be in the past).
Of course I was very desperate after I heard how Sony PrimeSupport reacted, so I called up a professional service center in Vienna that used to be part of Sony (AVMS), they really know their stuff. I talked to the head of broadcast repairs there, and he immediately said that this absolutely has to be something that must be covered by Sony and nobody else. He said there is just no way they can place the burden entirely upon the customer if their software fails.
I need my camera for a job next week, so I brought it there, because I didn't know what else to do. He took a look at it and couldn't find a quick solution to revive it. So the software might have destroyed something major … that has yet to be found out. An entire circuit board may have to be replaced.
I brought a copy of my PrimeSupport contract to AVMS with the camera, and they obviously contacted Sony and asked about the warranty in this case. Sony PrimeSupport called me up the following day and asked me "what is wrong with your EX3?"
I told the woman exactly what happened – but it seemed to me she just wanted to hear it from myself (after only having talked to my girlfriend and an AVMS employee), in order to deny any liability from Sony's side immediately when hearing the codeword "firmware upgrade".
So I am really, really disappointed with Sony in how this is handled. I hope we can find a satisfactory solution for this.
I am not willing to pay for something that was clearly not my fault at all. I even lose jobs in the time I don't have this camera, and/or have to rent an expensive replacement.
I write a regular broadcast technology blog at www.ninofilm.net/blog/. The blog currently has around 2.000-3.000 unique visitors a day (trend going upward), many of them Sony customers as well. I think they might find this bluntness of Sony PrimeSupport very interesting as well. Therefore I am currently considering of making this strange policy by Sony public on the blog and on all associated broadcast forums.
Looking forward to hearing from you soon,
Best regards,
Nino Leitner