8 Comments
Sony NEX-FS700 – unheard-of slow-mo capabilities & 4K later … for less than $10,000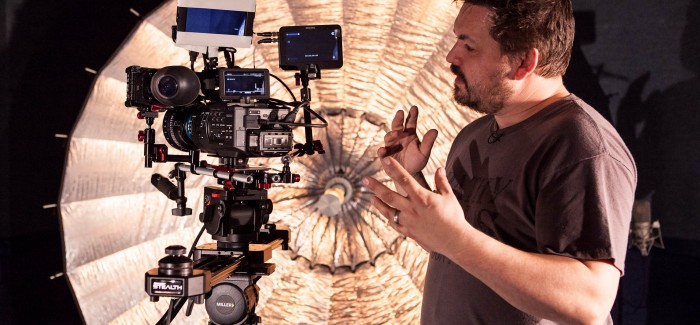 On

April 2, 2012

http://www.ninofilm.net

Sony has just announced their new cinema camera, the Sony NEX-FS700, which is about to fill the gap between the FS100 and the F3 in Sony's cinema camera line-up in Super 35mm cameras. It has a 11.6 million pixels sensor.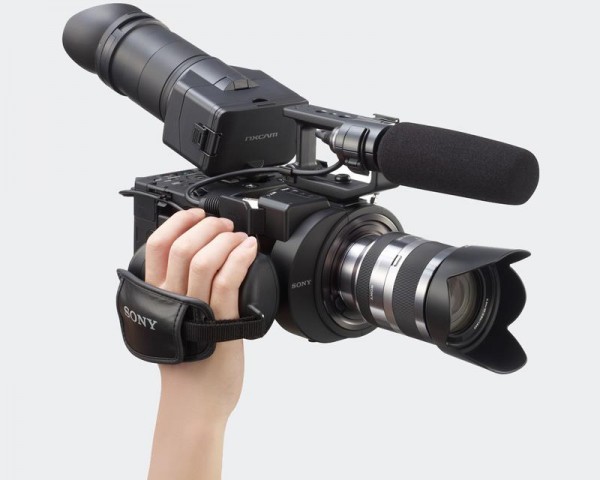 Incredible slow motion capabilities
There are two features that really make the FS700 stand out: It can record 120 or 240 frames per second in 1080p in 8 or 16 second bursts, respectively. It's insane and unheard-of in a camera in this price range. So far, the best we could get for a comparable amount of money was the FS700's little brother, the FS100, which is able to record up to 60 fps in 1080p (in the US version, 50 in the EU version – though that is about to get irrelevant with a firmware update that will make it a world camera).
Here are the details on what kind of slow motion it can shoot:
240fps for 8 seconds in Full HD
120fps for 16 seconds in Full HD
960fps up to approx 19 seconds in a burst (1920×216 line skipped readout, interpolated in camera to 1920×1080)
1480fps up to approx 9 seconds in a burst (1920×432 line skipped readout, interpolated in camera to 1920×1080)
The LCD panel is 3.5″ 921K – same as the FS100.

4K upgrade in the future
The second big thing about this camera is that it will be able to output 4K "Raw" through its 3G HD-SDI output in the future. It seems like not even sources within Sony know yet when exactly this will be available, nor what the recording device will be like or what its cost will be. But it sounds extremely intriguing.
To keep in line with the NEX series, the camera will record AVCHD 2.0 by default, to SD cards. It is a world camera, switchable from 50Hz to 60Hz, recording all variations of frame rates that we need (24/25/30/50/60) in 1080p.
It seems like a series of shooters had a chance to use this camera prior to its release. We can expect test shots of it at and around NAB time, maybe even in the coming days. Den Lennie, James Miller, Peter Prevec and Jason Wingrove seem to be among the few who had access to the camera already. Check out my friend Den Lennie's first blog post on his shoot with the FS700 on his blog by clicking right here.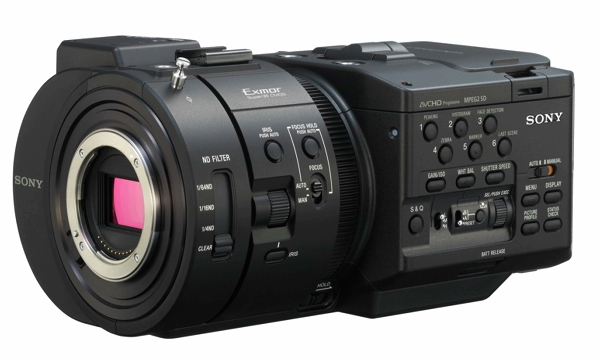 ND filters & form factor
They enhanced a few things from the FS100, although the form factor is similar. The FS700 has 3 built-in ND steps at 1/8, 1/16 and 1/64. I was never a big fan of the FS100 form factor, but it seems they enhanced some of its biggest shortcomings, e.g. moving the XLR port from the back to the front. It however still has the little awkwardly designed viewfinder that can be taken of, and it features the same LCD screen as the FS100.
It shares the same E-mount lens system with the FS100. Now, with the availability of a several adapters allowing you to control the f-stop on the ubiquitous Canon EF lenses, the Sony cameras will gain a lot of popularity in no time without a doubt.
Pricing
Now this is exciting, according to Sony's press release it will be below $10K, according to other sources even around $8-9K. This will truly make a big difference in the camera market, mainly because of its slow motion capabilities which put it out of reach of all the competitors, for now.
I will keep this post updated as we learn more about the FS700. Please check back later.
I will do my best to get my hands on one to shoot something with it as soon as possible!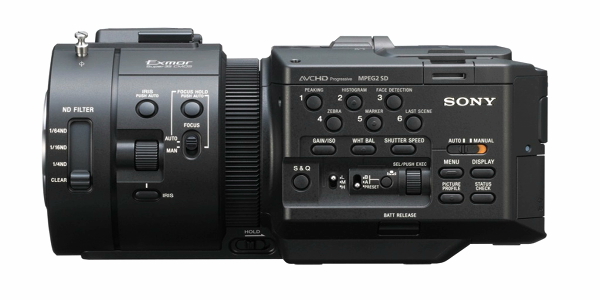 Sony's preliminary information
Preliminary Information

This is preliminary information. All features and specifications are subject to change without notice.

4K-ready

The first 4K-ready Super35mm camcorder in its class – providing an assured upgrade path to 4K acquisition and delivery – with full HD 1080p for today.The camcorder will also have the capability to produce 4K RAW 3G-SDI output via a future upgrade.

Super slow motion at 10x at full HD or 40x at lower resolutions

Incredible super slow motion capability of up to 10x slow motion at full HD resolution or up to 40x slow motion at a reduced resolution, giving you creative options that were once only available with specialist high-end equipment.

E-mount interchangeable lenses offer a wide choice of lenses

The E-mount interchangeable lens system utilises an extremely short flange back distance allowing you to use a huge array of lenses via a range of adaptors giving you almost unlimited creative options.

SEL 18200 lens supplied

The supplied SEL18200 (E 18–200mm F3.5–6.3 OSS) with the NEX-FS100EK boasts 11x zoom power, a quiet AF motor for cleaner sound recording, and Optical SteadyShot™ image stabilization with an advanced Active mode that lets you take steady handheld shots while walking around — even without a bulky stabilization rig.

Additional A-mount lenses available

The Sony LA-EA2 A-mount lens adaptor allows you to use the wide range of high quality alpha lenses and take advantage of the auto focus function for quicker, more convenient operation.

Built-in HD filters

The NEX-FS700EK features built-in, ultra-thin ND filters, offering exceptional shallow depth-of-field on highlights. It also means less accessories to manage as no external ND filters are required.

3G-SDI interface and HDMI

A 3G-SDI output enables easy integration with highest quality recording formats.

Exceptional ergonomics

The NEX-FS700EK has a refined ergonomic design with a robust detachable handle and grip.

Switchable 50 Hz and 60 Hz shooting

The NEX-FS700EK is switchable between 50 Hz and 60Hz to allow 24p shooting in PAL areas and no PAL/NTSC limitations.

Selectable magnification and positioning of expanded focus

Expanded focus improvement allowing 4x and 8x magnification and a moveable area of expansion for easy focusing with shallow depth of field.

Camera profile settings storage on memory card

Up to 99 camera profile settings can be stored, allowing rapid adaptation to multiple shooting environments without time wasted adjusting parameters. Settings are also easily shared in multi-camera productions.
Press Release
Read Sony's press release on the launch of the NEX-FS700:
SONY EXPANDS NXCAM LINE WITH NEW
FULL-HD SUPER SLOW MOTION CAMCORDER

NEX-FS700U Delivers High Quality, Flexible and Creative
Shooting Options for Workflows of Today . . . and Tomorrow

PARK RIDGE, N.J., April 2, 2012 — Sony is pushing the creative boundaries once more with the new NEX-FS700U Full-HD Super Slow Motion camcorder, the latest in Sony's line of NXCAM interchangeable E-mount camcorders. The new Super 35mm model is designed for high-speed shooting, capable of capturing footage at up to 960 frames per second. The camera also features a range of capabilities such as 3G HD-SDI output and built-in ND filters. Additionally, it also offers several creative options, shooting styles, and enhanced ergonomics – all based on customer feedback — to deliver a flexible production tool that can fit seamlessly into a variety of shooting applications.

"This camera opens a new door to creative shooting," said Juan Martinez, senior product manager at Sony Electronics' Professional Solutions of America group. "You can record beautiful high speed full HD movies with the freedom of creative interchangeable lens choice. The NEX-FS700U, with its super slow motion mode, is ideal for promos, TV dramas, commercials and documentaries as well as sports and a variety of event shooting."
The camera delivers full HD quality at 120 and 240 frames per second in a 16 or 8 second burst mode respectively. The NEX-FS700U's high sensitivity and low noise shooting capability makes super slow motion shooting more convenient without the need for additional equipment. Its 480 fps and 960 fps at reduced resolution are available for faster frame rate recording.

The NEX-FS700U camcorder uses a new 4K "Exmor" Super 35 CMOS sensor (Total 11.6 million pixels). This high-speed readout chip is optimized for motion picture shooting, giving high sensitivity, low noise and minimal aliasing.
The NXCAM line's E-Mount flexibility is designed to accept virtually all SLR and DSLR 35mm lenses, with the use of simple, inexpensive adapters without optical degradation. FS series owners can use their existing lenses and add more lenses without being limited to brands or mounts.

Users can capture high-quality still images with the NEX-FS700U. The camera also includes "face detection" and auto focus to help ensure that a subject is always kept in focus.
With the NEX-FS700U, operators can take advantage of the camera's built-in ND filters, with a newly designed ND filter wheel that rotates across the sensor like a turret. The wheel includes positions for Clear, 1/4 (2 Stop), 1/16 (4 Stop), and 1/64 (6 Stop).

The camera is 60/50Hz switchable to give shooters the freedom of working in any geographic region without being restricted to only PAL or NTSC recording.

The NEX-FS700U's 3G HD-SDI and HDMI connectors can output full HD 50p and 60p, in addition to standard HD 60i, 24p, 25p or 30p frame rates with embedded time code and audio. With 3G HD-SDI, it can output native 23.98, 25, 29.97 progressive signals. Users can elect to output PsF over the 3G HD-SDI. Thanks to flexibility of the digital ports virtually any external recorder can be paired.

Users can save up to 99 camera profile settings on a memory card, and can copy the same setting to multiple cameras. Compatible media includes SD and Memory Stick cards, and Sony's HXR-FMU128 flash memory unit that attaches to the camera.
The NEX-FS700U features a robust detachable top handle, secured by a pair of screws (a cold shoe, plus two sets of 1/4 and 3/8 inch holes) to allow secure mounting for heavy accessories. The handle is attached with a rosette mount.

A key element of the handle is an "active grip" that features four buttons for commonly used functions – expanded focus, auto iris, still capture and recording start/stop. Function buttons are also enlarged to make operation easy even while wearing gloves.
The camcorder's enhanced design also includes anchor points for compatibility with third-party accessories and a more durable design than previous models.

Sony is planning a future firmware upgrade that will enable the NEX-FS700U to output 4K bitstream data over 3G HD-SDI when used with an optional Sony 4K recorder.
The NEX-FS700U (body only) and NEX-FS700UK (with 18-200mm zoom lens) are planned to be available in June at a suggested list price less than $10,000.
via Dan Chung, Sony Alpha Rumors & Engadget