No Comments
Cam Busters Workshop Tour – Wrap up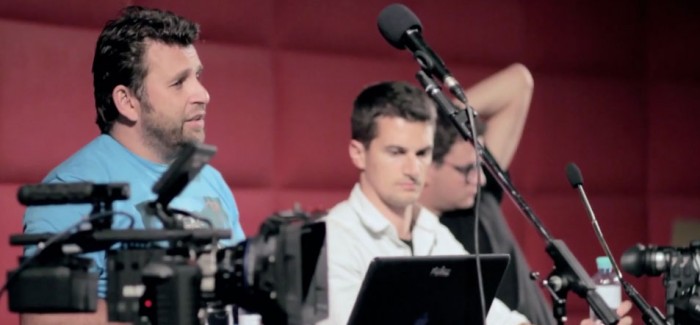 On

September 22, 2011

http://www.ninofilm.net
I know, I know, our Cam Busters workshop tour through Germany and Austria with Philip Bloom, Sebastian Wiegärtner & me has been over for quite a while now, so I am really sorry for the late wrap-up post. Been very busy with some great new stuff on the horizon, but more on that some other time.
It was incredibly intense fun, meeting a lot of people and different crowds across the two countries, and the overall response to the workshops was extremely positive.
Different places, different people
It was interesting to see how crowds in different places had different interests and fields of specialty, which is why our workshops were never the same. There is only so much you can go through in one day, and depending on the crowd, we would drop entire sections in favor of covering other sections in greater detail. For example, some groups showed great interest in interviewing techniques and the appropriate light and camera setups, while others were particularly interested in all imaginable sound recording techniques. As I said, groups are never the same, and that's why we adjusted everything as good as we could to particular preferences.
In general, I have to say that I was very happy to see that most people attending our workshops really had shooting experience or came from a similar creative background to shooting with DSLRs or the larger format camcorders, because the mix of input from the different fields of expertise kept it vivid and interesting.
Intensity
Because of the fact that there's SO much to go through in only one day and we really wanted to give the crowds as much value for money as possible, we basically skipped all breaks except for a one-hour lunch break. Most workshops lasted from 9.30 to 18.00 and sometimes even much longer, depending on the number of questions and the demand for an extended hands-on with all the cameras (believe me, we had ALL the relevant ones – from a 5Dmk2 and 7D over to FS100, AF101 and F3, all the way up to even Philip's brand new RED EPIC). So as you can imagine, the days were very intense for the attendees as well, but that's what it is all about! Stuffing people's brains with as much knowledge as possible 🙂
We knew from the start that a workshop tour involving 5 cities (Vienna, Munich, Cologne, Hamburg, Berlin) with only one day (of traveling to the next location) in between would become somewhat stressful, but I at least had no idea 🙂 The biggest problem you always have to deal with at all locations is the completely insufficient AV situation, which is really surprising considering many of the places we used as workshop locations were supposedly made for such events. The cool thing about Philip is that apart from having a ton of experience with all things cinematography, his US workshop tour with Cristina Valdivieso and Jon Conner back in March has equipped him with all MacGyver-esque techniques needed to fix even the most hopeless AV setup I have ever seen. In one location – a cinema – we actually had to cut some cables and twist the wires together manually to get sound. Literally minutes before the workshop started.
Meet ups
The most enjoyable part and were we really got to know people were the informal gatherings for dinner right after the workshops, which often lasted until quite late. That's were attendees and other people from the area have a chance to get together and really get to know each other. It's a tradition that Philip established, and he does it almost everywhere he goes. It's an ingenious idea to bring people together, who most likely live in the same city or area, but who would otherwise never have met. I organize a regular filmmakers' meet up in Vienna as well, with up to 150 attendees per event, which is incredible – and there are already so many film projects, professional partnerships and also friendships that have developed out of that. I would never have thought it could ever be this successful! These meet ups really are invaluable, and if you don't have such a thing in your place yet, make it happen. It will benefit you and the entire community greatly, believe me.
If there is one thing that I have learned from the past few years, during which the DSLR community has really developed online: When you share knowledge, you are not giving anything away. You gain so much more in exchange, it's unbelievable. It might sound like a cliché, but it is really true.
The Future of our Workshops
Philip, Sebastian and I will continue to do workshops together, but for now we will focus more on the Masterclasses. These three-day courses really give people a chance to get in depth with a lot of hands-on, thereby really creating a film together. Ideally in an environment that is not to far off a real production environment you might face in a client situation. Check out the unbelievable films people created during our last Masterclass in Mallorca back in June.
We are already planning new Masterclasses in completely new locations around the world right now, so stay tuned during the coming weeks for news on that front. Acceptance will be strictly limited to a certain amount of people, because we want people to have an exclusive experience with as much practical work as possible. In the future, the courses will be even more about technique rather than technology, because the tools become less and less of an issue with the availability of cameras delivering similarly cinematic results. We plan to focus on particular areas of interest depending on the Masterclass (apart from the main part, which for us will always remain camera work). For example, one Masterclass could have an additional focus on lighting, another one on scriptwriting, of course with the appropriate additional tutors. But again, more on that soon 🙂
And in case you are an attendee of a past workshop with the three of us, we will offer you a discount – but more on that once the new Masterclasses are announced!