24 Comments
Tester13's GH1 firmware hack – first user impressions plus before / after footage comparisons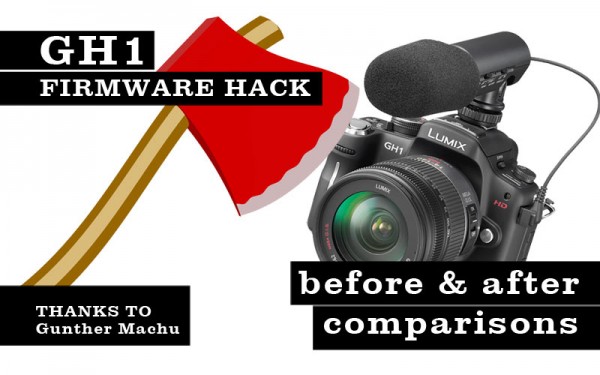 As many of you already know, somebody by the name of "Tester13" has released an incredible firmware hack for Panasonic's GH1 camera that enables this amazing camera to record at higher bitrates, which makes it a beast of a camera.
For the second blog post in a row, I will feature the content of someone else, this time fellow Viennese filmmaker Gunther Machu. While I do not own the camera, Gunther is an avid GH1 cinematographer who recently literally amazed me with his macro short film that he shot of animals in his garden (notably shot WITHOUT the firmware hack). I embedded it at the bottom of this blog post. You can find him on Twitter right here – Gunther, start posting more though 😉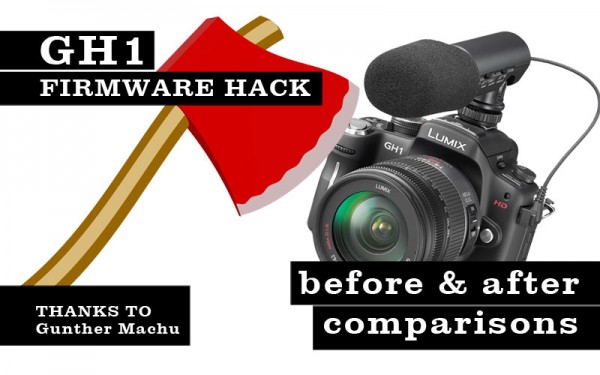 The following is Gunther's take on Tester13's firmware hack and I am happy to have it exclusive here on my blog:
———–

Introduction
The GH1 was first released in Japan by the end of April 2009. It created a lot of hype, mainly because the specs looked very promising: AVCHD Full HD 1080p with 24/25fps (in a 60i/50i wrapper, requiring pulldown on the NTSC model), 720p with 60/50fps (NTSC/PAL model), 720p motionJPEG with 30fps in a compact body with a 4/3" sensor. Add 48kHz built – in stereo mics plus interchangeable lenses without a mirror, thus allowing enough space to fit virtually any lenses out there via appropriate adaptors.
The hype soon cooled down a bit when first tests revealed a rather weak codec, showing that the 17Mbits/s FHD AVCHD was just enough for static shots, starting to exhibit compression artefacts already with reasonable camera movement. The main problem originates from the AVCHD implementation without B frames and a long GOP structure including only P and I frames.
Many users still preferred the GH1 over the famous Canon line, mainly because of the superior performance regarding aliasing, resulting from the fact that the GH1 seems to do pixel binning instead of Canon's line skipping in their DSLR lineup. (Check out Nino's blog post on the way the Canons do line skipping right here.)
Tester13's GH1 firmware hack
Believe it or not, on the 11th of April the previously unknown guy Tester13 showed up on www.dvxuser.com, asking for volunteers to try first patches of a firmware hack that he provided. His approach was / is to provide a firmware manipulation tool which allows each GH1 owner to manipulate the firmware of their cam. Based on the first successes dvxusers quickly started to donate money to provide Tester13 with equipment, as he initially didn't even own a GH1.
If you want to join in and help as well, please donate at

http://www.gh1-hack.info
With amazing speed this guy quickly patched the most annoying drawbacks of the GH1, namely native 24p (thus eliminating the need for pulldown), language (allowing Japanese models to be changed to all other languages) and many more. The thread quickly moved to research the AVCHD and MJPEG codec implementation, and resulted last week in a major breakthrough: the patch now allows to change the size of the P frames in the AVCHD implementation (originally it was limited, and heavily over-compressed as soon as motion kicked in), pushing average bitrates up to 50Mbit/s, thus eliminating all the codec weaknesses known so far. As if this wasn't enough to make everybody happy, MJPEG patches allowing to increase bitrate and changes to the frame size were released as well, resulting in up to 100Mbit/s photoJPEG (75%) at user defined resolutions. Latest status of research is a patch to enable 4:2:2 chroma subsampling in the MJPEG codec.
Note: as with every hacked firmware, this is not 100% risk free! You do everything at your own risk.
Footage with the patch released on 12th of June, Ptool 3.36
I did some tests with the patch released on 12th of June, and was interested to get into a side by side comparison of the original GH1 and the patched one, GH1³ – an homage to Tester13 😉

The following settings were posted by PappasArts (MJPEG) and Jobless (AVCHD), over at dvxuser.com.
In this test a pan through my garden was used, with the following settings:
MJPEG: size 1440x1080p (also 1920x1080p available), E1 (Q/T) = 384/24, E2 (Q/T) = 330/24, E3 (Q/T) = 300/24, E4 (Q/T) = 276/24
AVCHD: 24p native, Video buffer 50M, video bitrate adjustment: 38M, overall bitrate adj. 40M, limiting bitrate adj. 42M
I limited the bitrate somewhat as I only had a buffalo 16GB Class 6 card available. For higher bitrates, faster cards are needed otherwise the camera can freeze during recording (remove battery and everything is fine again).
It took me about 15 mins to revert the firmware, hence the light in the before / after test had changed a bit. Still, I think the results speak for themselves.
Other settings: camera fully manual, smooth film mode, everything set to -2 to get the flattest possible image, 1/160 shutter speed, WB at 5300K, Iso 100, F8 on the kit lens.
Screenshots:
The pan starts with a static (tripod) scene:
Then the pan starts:
Stopping with a static scene again:
200% zoomed in, looking at some details:
Conclusion
Congratulations, Tester13 and all the other brave guys who dared to test the first firmware patch versions, risking to brick their camera (Nurbs, jobless, PappasArts … at www.dvxuser.com)!
The clear winner at the moment (research still ongoing, settings not consolidated) is the new 1080p native AVCHD. Not only has the famous "mud" during camera movement vanished, also in static scenes the resolution has improved. An explanation (apart from increased bitrate) could be the fact that in the original 60i wrapper containing the 24p footage the chroma was interlaced and had to be deinterlaced during pulldown. With native 24p the chroma information is also progressive, resulting in a slightly higher chroma resolution. Furthermore, the original GH1 was showing "islands of unsharpness" in areas where the contrast level was low, thus making wide angle shots with deep focus problematic in difficult, low contrast light. This has vastly improved as well, resulting in a whole new camera!!!
It is hard to predict what comes next, but Tester13 has already eliminated the most pressing weaknesses of the original GH1 at lightning speed, making his initial thread the most successful ever on dvxuser.com, currently exhibiting ~320000 hits. If MJPEG 4:2:2 works at high bitrates, another quality step is to be expected! Exciting times.
—————-
Thanks so much to Gunther Machu for this great post! I can't wait to meet up with him in Vienna soon to see the difference hands-on and maybe even do some side-by-side comparison to footage from my Canon T2i/550D.
Please do check out Gunther's macro video I was talking about in the beginning, I think this is some of the best work I have seen coming out of that tiny GH1 camera. Again, please note that he shot that with an unmodified GH1 and the original codec, using an old used Canon 50mm macro FD lens that he got from eBay for only €50!
Update:
Apparently the GF1, GH1's little sister camera, was hacked as well. Check out the demo video:




UPDATE 21st June, 2010:
Now that the firmware hack has been out for a week, more and more interesting videos demonstrating the added possibilities have popped up on the web. I have selected a few that I think show best what is now possible with these cameras. (Don't get me wrong – these videos aren't masterpieces, but they do show what the GH1 is now capable of – some shots in there would have been impossible to do with the original firmware.)