8 Comments
Canon EOS C300 introduced! First Canon S35 camcorder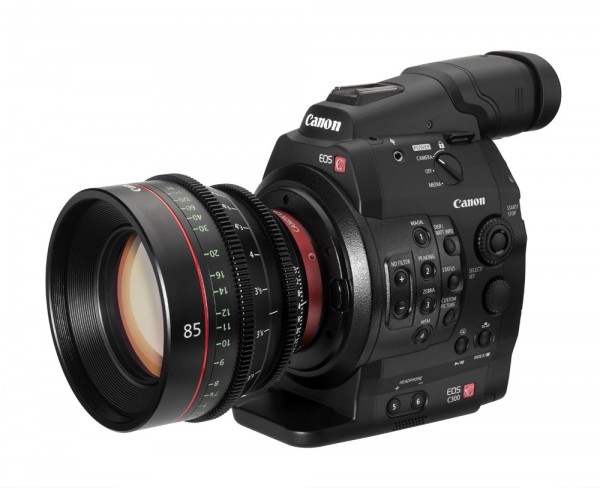 Canon announced their long-anticipated new EOS C300 Super 35mm video camera. Finally Canon is directly aiming at professional video production with a need for cinematic images.

There are going to be two versions of the camera – a PL mount version and an EF mount version, suggested retail price is a hefty $20,000 and it will start being available in January 2012 – worldwide!
It's exactly what I have been waiting for, except for the price 🙂
Let's see if there will be an additional DSLR announcement shortly (see below) …
To me, the greatest advantage in comparison to the F3 is the form factor. Canon really understood that people got accustomed to the DSLR form factor which made the cameras very flexible, easy to transport and to set up. This one too will be able to go into places were others just can't! Pricing is something to chew on though …
Watch Vincent Laforet's MÖBIUS – the first film shot with the new C300 – right here:

If your system can handle it, here's the 1080p version of Laforet's MÖBIUS. Read on his blog about the film and his time with the Canon C300.
Here's the BTS clip:
Specifications:
* Canon XF codec (50Mbps 4:2:2 1080p30 MPEG2 MXF) records to two Compact Flash card slots
* 24P, 25P, 30P, 1080p – actual resolution of the chip is 4K (3840 x 2160 effective pixels, and it is of course CMOS), but it's downsampled to 1080p, which results in an incredibly sharp image that will for sure be virtually on par to a 1080p image from an Alexa or a downsampled 4K image from the RED EPIC (or the new RED SCARLET, for that matter)
* 60P at 720 – now that's a real drag, I feel for $20K we can at least expect it to do 60p at 1080p – I mean, even the $6,500 Sony FS-100 does it! Not the F3 though …
* 2 CF card slots (hot swappable, relay recording (!) from one to the other – dual recording at the same time means that you can generate a backup copy whilst recording, which is absolutely great)
* 4″ LCD monitor with 1.23 Megapixels (removable, on the handle) – a nice idea, it can be rotated and removed, so you can have it whereever it's needed.
* XLR outputs on the handle, 3.5mm mic jack
* HDMI & HD/SDI out
* SD card for stills
* Time Code in/out with Genlock
* Headphone jack, 3.5mm (yes, this is huge and needs to be mentioned, no DSLR has one!!)
* Canon Log gamma, SDI, compact body, Custom Presets and menus similar to Canon XF series
* Exposure and focus control are completely manual — there is no AE or AF on either camera
* Sold as a system, incl. LCD monitor / XLR audio unit, side grip, top handle, batt. & charger
The Canon C300 uses the new, specifically developed Canon DIGIC DV IIII Processor, which is said to be amazing in low light, also providing a huge dynamic range. This is in fact something I am really excited about. The new generation of sensors both from Sony and from Canon are absolutely mind-boggling in low areas, I never thought this is possible … Just shooting with a current Canon DSLR in low light, you know that there's no way on earth you can go past ISO 1600 for video, and even 1600 is VERY grainy (and the Canons so far have a very colorful and therefore annoying kind of noise). According to Vincent Laforet, "the noise pattern coming from that camera is incredibly reminiscent of film". That sounds amazing and makes it all the more interesting to me. Vincent Laforet mentions that the few tests he made at ISO 3200 and 6400 were absolutely amazing, something unthinkable with the current Canon DSLR lineup.
The C300 has a built-in Log Cinema Mode that sounds like the optional (and pricey) S-Log feature on the F3 (that makes the camera in fact a "mini Alexa"), said to provide 12 stops of Dynamic Range at ISO 850.
According to Laforet, "it's fair to say that this camera performs better than the Alexa and perhaps even the Sony F3 in low light". That's a very impressive statement in itself. He says that that's just an assumption from his experience, but it will be exciting to see.
The weight of the camera is absolutely amazing – just about 1.45 kilograms / 3.2 lbs for the EF version or 1.63 kg / 3.6 lbs for the PL version of the camera. This is certainly a HUGE advantage compared to all the other offerings – the RED SCARLET, the Sony F3 and of course the Arri Alexa are massively heavier … this makes a giant different in everyday handling of a camera.
It even has WIFI built in to be controlled wirelessly using a standard HTML browser. A great advantage, which means you can control your camera using your iPad or iPhone, for example if it's on a crane. And the best thing: It's iris AND focus control via remote when you use EF lenses. A HUGE benefit!!
So to sum the Canon C300 up for now, it is exactly what I have been waiting for from Canon, but … for about twice the price. It sounds like even Vincent Laforet didn't have a clue about the pricing when he wrote his blog about it, because he mentions that he assumes it to be priced above the new Canon 1D X DSLR … which is $7,000. Well yeah, it is above, WAY above. Let's see if Canon amends this pricing or if the street price will actually be considerably lower as soon as it is available … I will do my best to get my hands on one as soon as possible, but I have a feeling that that won't be easy …
Canon Cinema EF lenses

Canon has also announced a line-up of new Cinema EF lenses, both primes and zooms:
24mm T/1.5L F
50mm T/1.3L F
85mm T/1.3L F
14.5~60mm T/2.6L SP
30~300mm T/2.95-3.7L SP


Great, but certainly pricey … though a 30-300mm zoom that fast really is a lens you can use for everything if you are a news or documentary person …
Here is the new Canon website specially dedicated to the camera http://www.canoncinemaeos.com/
Zacuto and some other rig makers have already announced and shown rigs for the Canon C300 – here is Zacuto's new video, which also shows quite a bit of the new camera:

The other Canon camera announced today is a 4K DSLR concept camera … see this post for the detailed press release!