38 Comments
Zacuto Z-Finder EVF test – Full Review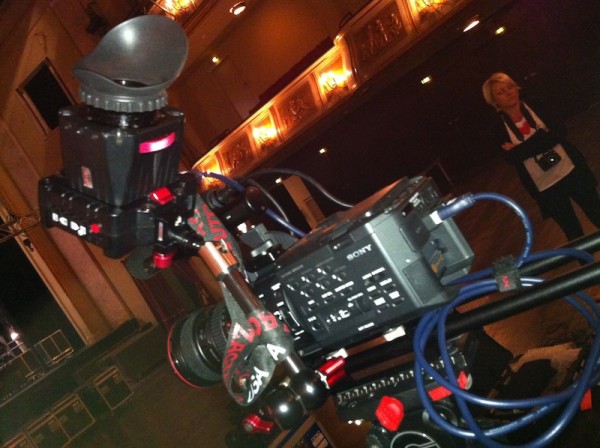 As most of you might already have heard, Zacuto has released a new electronic viewfinder (EVF) for use with your DSLR cameras or any other cameras with an HDMI connector.



EVF – the race to market
To be perfectly honest I was skeptical about the entire EVF craze when RedRock Micro and Zacuto first announced that they were going to build and sell EVFs over a year ago. RedRock Micro was the first to announce theirs, and only days later Zacuto started making a big fuzz about their announcement. Well, one could get the impression neither of them had an actual product at that point, playing cat and mouse.
Interestingly, over the months that followed, slowly leading up to this year's NAB (where I had the opportunity to try out the Zacuto EVF for the first time), any news about a RedRock Micro EVF had completely died away. Zacuto on the other hand kept people informed about the development progress, and loads of working pre-production units were all over the floor at all sorts of booths at NAB 2011.
There is one other noteworthy EVF on the market now from Cineroid, which makes a decent impression, but I haven't used it yet. Check out Philip Bloom's review of the Cineroid EVF right here.
I just checked RedRock Micro's EVF site – they are saying that their EVF was delayed (without giving any timeframe for a release), and that all the other EVFs on the market are too expensive – "our target is $375".
Well, I love RedRock Micro products and own some of them, but to be honest, that sounds very unrealistic. If it would be that cheap to produce I think we would already have seen a bunch of HongKong OEM producers jumping on that bandwagon, but I haven't seen any half-decent viewfinder in that price range at NAB, so I conclude that it's currently simple not feasible. The RedRock EVF also still sounds more like a concept in its early stages than a real product, especially considering the fact that they still only have really bad low-poly 3D renderings on their website instead of photos of a mock-up … I'm sorry, prove me wrong, but I don't think we will see the RedRock Micro EVF anytime soon (if ever).



Why an EVF?
Well, I am surprised it took accessory manufacturers so long to react to one of DSLRs' most obvious shortcomings with regards to ergonomics. From professional camcorders we are used to have an electronic viewfinder that can be adjusted to anywhere you please. That allows you to position the camera where it needs to be for a particular shot, while maintaining the possibility to have a good look at what you are actually shooting.
The fact that you can view a DSLR's image only through its LCD (except for cameras without a mirror like the GH1 or GH2 – but those are technically speaking not DSLRs) means that also need to have to add a viewfinder like a Z-Finder or Letus Hawk VF to the screen to judge the image and focus. I think I have done the most thorough series of DSLR viewfinder reviews to date, check the links out below – all the main viewfinders available on the market have been tested (review of the Cinevate Cyclops will follow shortly). I found the Zacuto Z-Finder and the Letus Hawk VF to be the best ones available, for different reasons.
– Epic DSLR Viewfinder Review & comparison (5 viewfinder solutions)!
– Letus Hawk VF – comparison to the Z-Finder
Such mechanical-optical viewfinder add-ons are great, but their biggest problem is the fact that you cannot position them where you want them. You are forced to have the camera right in front or next to your face, even with flip-screen cameras like the 60D or T3i/600D.
Another big problem is that Canon makes it really hard for us to accordingly judge focus because on some cameras the resolution of the screen is relatively low (e.g. 5D Mark II), plus there are absolutely no focus aids like peaking or false colours on Canon DSLRs. All that mechanical-optical viewfinders can do is to magnify the LCD screen (and by doing that, also magnifying all its downsides). Don't get me wrong, it helps immensely and I have said before that a viewfinder is the single most essential accessory especially for handheld DSLR shooting, but it of course is always restricted by the camera's limitations (and its LCD).
An EVF completely frees you from the camera itself, while still giving you all sorts of additional options missing from the built-in screen.  You can position it anywhere you want, allowing you to build very custom rigs. I also like the fact that it allows you to have the same high-quality viewfinder on all sorts of different cameras, as long as there is a HDMI connector.



Zacuto EVF
Let me be clear from the start: I was given a pre-production version of the Zacuto EVF to beta-test it on actual shoots and give them feedback on what they could enhance. This review will be updated and expanded further as I will work a lot with the final version of the EVF in the coming weeks.
I think it's great that they are reaching out to a group of professionals in that way because only shooters know what it's all about as we work with camera gear every day. That sounds like a very obvious thing to do, but unfortunately it isn't – not even for camera manufacturers – but I sense even the big boys Sony, Canon & Panasonic slowly realize the importance of listening to the community (good example: the new Sony NEX FS-100, partly based on feedback from cinematographers like my buddy Den Lennie).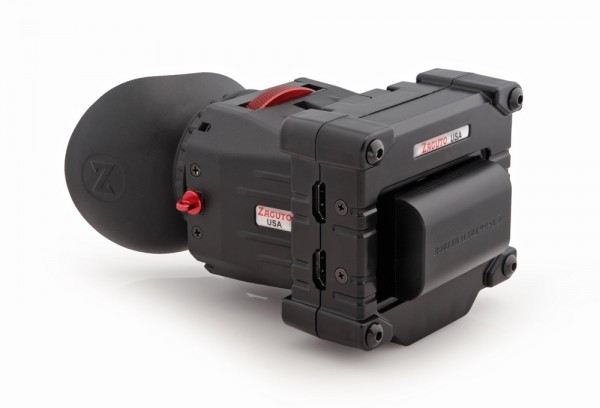 Working with a pre-production version obviously means that not everything will be perfect, that's why I can't go into detail about all the menu items and different options at this point – they are still making adjustments based on our feedback. By the way, firmware updates for the EVF will be provided for free by Zacuto, and I also expect them to consistently add presets for new cameras just like they already did during the beta testing process. (The EVF has a USB port to allow easy upgrading.)
While I have to postpone a detailed run-through the menus until I receive the final production EVF, I can give you a rough idea of the Zacuto EVF and my thoughts on it.
Impressions, the screen & built quality
When I first heard Zacuto was building an EVF I wondered if they had the skills to pull it off, because they are known for building great quality camera rigs, but not electronics, which is a totally different ball game.
Obviously they have found the right people to do the job though: the screen is pristine, at 800 x 480 on a 3.2" bezel the resolution is drop-dead gorgeous – if I was Zacuto, I would call it "Retina Display" like on the iPhone 4 (though I'm perfectly sure an Apple lawsuit would follow on the spot). The viewing angle is extremely wide (170 degrees, and I can confirm that), and there is no discernible colour or brightness difference no matter how far you move to the side of the viewfinder.
When you hold the EVF in your hand the first thing you notice is its lightness – that thing weighs almost nothing and therefore also adds very little weight to your entire rig! I think this is hugely important as a lot of rigs (particularly the lower-end options) look great, while weighing extremely heavy on your shoulder.
The built quality is hard to describe as you really need to hold it in your own hands to appreciate the craftsmanship that went into it. To sum it up, I would say it feels as solid as any Zacuto gear I've used so far, and that is a huge thing to be said about something as fragile as electronics. It does not feel like other monitors that are usually clearly not designed to go into your gear bag without additional protection It's more like the rigid enclosure of a heavy-duty pelican case.
Zacuto proved the EVF's durability already by dropping it from a ladder and doing all sorts of tests with it – check out the videos below. It surely is impressive and I think this piece of electronics will last for a long time.
Zacuto's Z-Finder is one of the most useful DSLR viewfinders, and it's a smart move on their side to make it a part of the new EVF, enabling existing Z-Finder owners to only buy the EVF itself (the "EVF Flip" or "EVF Snap" versions), saving quite a bit of money.
I am testing the Z-Finder EVF Flip version, which allows you to flip up the Z-Finder from the EVF, revealing the EVF screen without magnification – a good idea as others will still be able to see what is being shot if you flip away the Z-Finder.
There is also a slightly cheaper option, the EVF Snap, which allows you to snap the Z-Finder onto the screen when you want to use it as an EVF. Works like the old "sticky mount" solution of the Z-Finder directly on the camera screen.
Port-wise, there is the ability to loop through HDMI (6 pin connector, that's the big one, not the flimsy one featured on the Canons themselves), which is great – you can attach another monitor or viewing device at the same time, giving your director or client a chance to see what is being shot too. A must-have on any professional HDMI monitor if you work in teams.



Menu settings, firmware features & upscaling
The Zacuto EVF was made to work with DSLRs. It works with all cameras that have an HDMI-out (also new large-chip camcorders like the AF100, F3 & FS-100), but it really shines when you attach it to a DSLR. There are presets for all sorts of cameras (Canon, Panasonic, and so on), each one designed to deal with the peculiarities of a specific camera. For example, Canon DSLRs shift their aspect ratio and most of them even the resolution when you hit record. The EVF will upscale the 480 line image coming from any 5D Mark II, 550D, 600D or 60D when recording, even interpolate in real time. You can compare it to a BluRay player that is able to upscale regular DVD's to make the image look more HD-ish and sharper. It works the same way with the EVF, and Zacuto did a really good job on that.
This is a hugely important feature as the low resolution HDMI output of Canon DSLRs other than the 7D and 1D Mark IV during recording is one of the biggest reasons that make it very hard using an external monitor on all the other Canon cameras. The upscale quality is superb, and it really helps tremendously when focusing – I did some test shots wide open on an f/1.4 prime lens and tried to shift focus with the EVF and with a normal little 5" monitor, and the results with the EVF turned out to be more precise in most cases.
Nevertheless, focusing always remains tricky on DSLRs with a very fast lens, but there are other features to help you out: peaking and false colors.
The peaking feature artificially sharpens the edges (just for preview!) even more, making it easier to spot the area in focus. This has become particularly relevant now that the Technicolor picture profile found widespread acceptance (it produces the flattest image you can get out of a Canon DSLR, which gives more latitude for post processing, but that also means focusing is even harder than before).
On the Zacuto EVF, there are 3 steps of peaking intensity that can be selected. I played around with all of them, but I find the lowest intensity (1) to be most helpful for my needs. It is a tremendous help when you shoot wide open, but don't judge the overall image from it, it's really just a preview.
Another focus aid is the pixel-to-pixel feature (also neat to be enabled by the push of an assignable button). It allows you to accurately judge focus by zooming into the frame, revealing only the central 800×480 pixel part of the image in its one-by-one pixel glory.
The false colors feature was introduced with one of the latest firmware upgrades for the EVF. It's a feature known from professional monitors – different colors represent different levels of exposure. It makes it very easy to judge exposure in different parts of the image and it should only be switched on for a quick exposure check as it makes the image completely impossible to judge aesthetically.
Zacuto really thought about a lot of stuff when designing this thing – 3 of the four side buttons of the EVF can be assigned to custom functions. Putting false color on one of the buttons works great for me, and so does peaking. You don't have to go through all the menus to use the functions you require most – a quick push of a button, adjust focus, push it again and you're done. Awesome.
Another great feature are zebra patterns, which allow you to judge overexposed areas quickly and easily. Like the false colors feature this was brought over from professional broadcast camcorders. Very helpful for people who don't like to use exposure meters (like me).
People using anamorphic lenses have a hard time on DSLRs as the image will appear to be skewed as there is no way to change the displayed aspect ratio on the cameras themselves. The Zacuto EVF has a solution to un-squeeze them shots in preview.
There are many other features on the EVF that make it a perfect little package, but these were the most important ones.
Battery life
The Zacuto EVF runs on a single Canon LP-E6 battery (or an optional external 12 Volt adapter). Another smart move, because that means you can use the same battery as in your 5D Mark II, 7D or 60D. No need to worry about buying back-up batteries as most of us will already own a few of these.
Now, to cut a long story short, battery life is insane. I used the included battery straight out of the box and it lasted for several hours without needing to recharge. After I recharged it the first time, it lasted more than an impressive 7 hours! Now that is what I call longevity!
Conclusion
I had a hard time finding any downsides about the Zacuto EVF, and I'm still looking. It's a very impressive demonstration of what can be pulled of if you listen to the customers as a company, and Zacuto is obviously very good at that. There is not much that I would change, if anything at all. Of course, there is always more you can add, but for the DSLR shooter, this really is the ultimate viewfinder.
It not only makes shooting more flexible, but also tranforms DSLRs into more professional movie machines in so many ways, alleviating many of the cameras' downsides. The Zacuto EVF feels like a natural extension to any DSLR, as if it has always been there … and I truly don't want to miss it from any of my DSLR shooting in the future. And I think that is the best recommendation I can make. Great work!
The Zacuto Z-Finder EVF is in very high demand, that's why people have to wait for their orders for a while already – so hurry up to get your order in if you want one!
Disclaimer:
I am affiliated with Zacuto and I get a small commission off any sales referred from my site. I only recommend products I really like, and that's actually why I decided to become affiliated with Zacuto. Buying the EVF through any of the links on this site helps to maintain this blog and allows me to use as much time as I do on testing gear and providing these reviews. I appreciate all your support a lot.
Just to make myself perfectly clear, I am also affiliated with some of Zacuto's direct competitors, for instance Letus, for the exact same reason: I like their products. Being affiliated with competitors proves that I am not favoring one over the other – it really all comes down to the quality of their products, and I will tell you if I don't like something. It has happened before!