207 Comments
UPDATED with short film "FEBRUARY" – Canon EOS 550D / Rebel T2i review (pre-production model)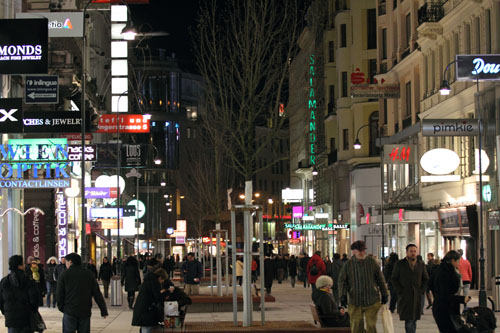 Check out my new short film, "FEBRUARY", entirely shot on the Canon EOS 550D / Rebel T2i (pre-production model)!
I used NO GRADING, just the "flattened" picture preset, and shot mostly at ISO100 (day) & ISO1600 (night).
Check out the new COLOR GRADED version of this short here.
Shot in 1080p at 25fps, except for the slow-motion sequences, they were shot in 720p at 60fps and later reconformed to 25fps using Apple's CinemaTools.
You can watch this short in 1080p "Full HD" too, over here on YouTube: http://www.youtube.com/watch?v=5xfEw2P6M10 – just make sure your computer is powerful enough as this is quite demanding.
Music:
"Living Waters" by Philip Glass from the The Truman Show (MP3 Download)
Lenses used:
Canon EF 70-200mm f/2.8L IS USM Telephoto Zoom Lens

Canon EF-S 18-55mm f/3.5-5.6 II Lens
(kit lens)
I used this really cheap – but quite heavy – tripod setup for all of the tripod shots in the film above. Watch out for a review of this tripod here on the blog soon. Have been using it for over 8 years now, nothing comes close regarding price if you want something stable that performs well in windy situations, or if you need to go really high!
Before I start drooling over this new camera from Canon, I have to tell you that I am relatively new to the whole HDSLR field.
Over 14 months ago, I was doing detailed research on what HD camera to buy – I needed a real workhorse for "real" commercial jobs, for many of which a DSLR camera is just not suitable. Also, at that time, only the 5Dmark2 with its 30 fps recording was available, and that was of course unacceptable (I live in Austria, and of course it's a PAL country like the rest of Europe).
I went with the EX3 and have never regretted that choice. It has enabled me to do lots of great work so far – work which would just have been impossible to do with my old Panasonic DVX100A, which served me well for over 7 years.
Nevertheless, I always – of course, like everybody else – was striving for a filmic look on some jobs and projects. At that point already I decided that a DoF adapter like e.g. a Letus wasn't the way to go for me. I don't want to loose more light and is an overall too bulky setup to use on a regular basis. It might be true that the overall quality of images shot with these adapters is still a bit more "organic" than DSLR footage, but the bulkiness just won't allow you to shoot much of the stuff you'd be able to shoot with a DSLR for exactly three reasons:
Size, weight and light sensitivity.
To make a long story short: I decided a while ago that I needed an additional camera for a different purpose to supplement my EX3 setup. And I think I might have waited long enough with the purchase – because I just found my future camera with the new Canon EOS 550D (or Rebel T2i, how it's called in the US).
Thanks to a friend who's working for an Austrian IT magazine, I was able to get my hands on this new sensation early. After he tested the camera, I was also given the opportunity to have a close look at it and shoot some test footage.
I have to mention that this is a pre-production model – Canon explicitly told us that there might be some changes until its final release. Nevertheless, looking almost exclusively at the video mode, I found nothing to enhance on the firmware (I have version 1.0.3 on the model right here). I also heard that this camera will start shipping this or next week already, so what I have in hand might be close to the final thing.
So why exactly is it a sensation?
This one is easy to answer: Without having a 7D here to do a side-by-side comparison, it delivers a very similar video picture to the Canon 7D in practically every video mode. It offers all the frame rates the 7D offers: 1080p24, 1080p25, 1080p30, 720p50 and 720p60.
It offers an HDMI port, a mike-in port, and even an autofocus mode for video (!) which isn't always as useless as you might think, because it only focuses when you slightly press the release button, just like in photo mode (and you can calibrate the autofocus matrix the way you like – by the way, it uses the same autofocus system the 7D uses as well). I wasn't able to test the resolution the HDMI port delivers, sorry for that – I know this is important, but somebody else will have to check this out as I already had to return the camera.
EDIT:  Zak Melms commented on Vimeo the following regarding HDMI:
"In case folks are wondering, no HD output when recording, and no clean video signal either, it drops out for a second when you start and stop and when you arent recording you get all of the display controls."
EDIT on March 2, 2010: Jay Friesen has taken a detailled look on HDMI with the Rebel T2i / 550D – you have to check this out!
Just like the 7D, the 550D uses a sensor that delivers 18 Megapixels (17.9 to be exact, 5184 x 3456 pixels) in photo mode, which isn't irrelevant for video mode: because of this same resolution the images are – at least to my eyes, as I said – indistinguishable to video images from a 7D. BUT Canon pointed out that it is NOT the same sensor! Unfortunately I don't have a 7D to borrow to do a side-by-side comparison in the field, this is up to somebody else. I am very curious if somebody can note any difference performance-wise. From what I've seen shot on a 7D, I certainly can't see much difference. There might be a little more grain at 1600 ISO, but I can't say that for sure – might have been circumstantial when I shot yesterday (lots of fog).
That is of course also true for the "disadvantages" of the 7D: The picture is considerably less "sharp" compared to the 5Dmk2 or a "real" FullHD camera like the EX1 or EX3 (probably a mathematical problem resulting from the necessary line-skipping in the sensor which has a much higher resolution than the necessary 1920*1080), and of course there's sometimes bad aliasing. Check out Stu Maschwitz's blog on that matter to find out more.
The LCD screen is super-crisp. In fact – 7D owners won't like to hear this – according to the specifications it has even a slightly higher resolution than the 7D (10% better): the 550D sports a 3 inch display with approx. 1.04 million pixels, while the 7D has a display of the same size with 920.000 pixels!
The 550D uses slower internal processing than the 7D, which means you can only shoot 3.7 images per second in photo mode (compared to 8 on the 7D). I think this difference is irrelevant to movie modes, at least I didn't find any limitations while I was out shooting. Just like on the 7D, 1080p recording is limited to 12 minutes per take.
ADDED on March 4, 2010:
I clarified the 12 minute recording issue with Canon today, once and for all. We were told that the real reason for the 12 minute recording limit is – as many have said for a long time – the FAT32 format on the card. The FAT32 file system has a maximum file size of 4GB which equals 12 minutes of 1080p. Canon simply has no technology in place that allows the seamless linking of the files, therefore enabling the cameras to record seamless takes that span over multiple 4GB files. We were told that this recording limit has nothing to do with overheating or other issues.
It's weird Canon still doesn't seem able or willing to fix this with a simple firmware update – other cameras like the XDCAM EX line by Sony are recording in FAT32 too, but they have proper technology in place to allow continuous recording. The files are later even joined by the software when you transfer the footage from the cameras onto your computer.
There is one thing in particular which shows that Canon is really trying to dominate the market for HDSLR shooters in the long run: They didn't employ a lower bitrate, something which many – and maybe rightfully so – were fearing at first. It offers the same 44-45 MBit a second as the 7D. You really get the idea here that Canon always seem to built into the camera what's technologically feasible at the moment, not what their marketing department would probably prefer (I'm looking at you, Panasonic GH1).
With its higher bitrate and a multitude of frame rates and resolutions, the 7D was a big step up from the 5D, albeit of course with a smaller sensor and the resulting loss of light sensitivity and the resulting increase in focal length (1.6 increase, same with 550D).  With less and cheaper components, they were obviously able to give us practically the same thing with the 550D.
Now, the $800 550D is in some ways more versatile than the $2.500 5Dmk2!
(A firmware update for the 5Dmk2 adding the new framerates was announced long ago, but people are still waiting for it to arrive.)
By the way, rolling shutter is of course just as bad as on the 7D – but I think not as bad as on the 5Dmk2 (again, probably because of the smaller sensor).
The same-sized processor also results in a comparable sensitivity as on the 7D as far as ISO are concerned. I shot most of the night scenes in the test short at ISO 1600, which to me is the maximum tolerable amount of grain. As Philip Bloom has pointed out on the 7D, at 3200 ISO it starts getting really nasty. However, when I shot some tests last night in thick fog, you could see quite heavy grain even at 1600 ISO – see above by the end of my short "February" for these shots.
By the way, the Rebel T2i / 550D is somewhat limited in choosing ISO levels: you only get 100, 200, 400, 800, 1600, 3200, whereas with the 7D and 5Dmk2 you can also choose from 160, 320, 640 etc.
I tested the 550D with the Kit lens, which is also the same as on the 7D (EF-S 18-135mm f/3.5-5.6 IS). As you probably know, this is not a professional lens, but it is an exceptional value for just $300, and good enough for many keen amateurs who're not looking to create the perfect film look. But don't expect that lens to perform well in the dark.
To really get to the potential of this camera, you have to use a really fast lens to be able to shoot at low-light and with a very shallow depth of field because of a wide open iris. We were given the Canon EF 70-200mm f/2.8L IS USM, a lens worth twice as much as the camera. With the 1.6 increase in focal length this equals to roughly 110-320mm on 35mm.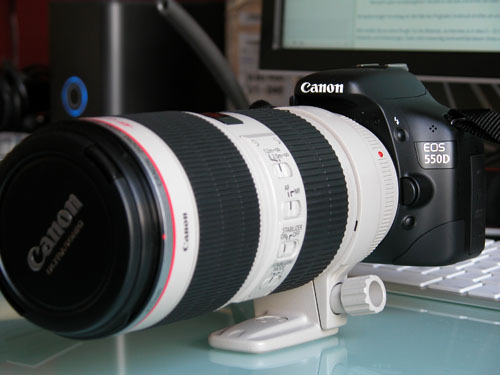 Effectively this means that I was running around with something like a shotgun, mostly shooting hand-held without much support (my soon-to-be-replaced Manfrotto tripod is just to inconvenient to carry around for a long time, might finally have to go for Philip Bloom's beloved Miller DS-20 or even a new Sachtler Speedlock with a FSB-8 head).
So please bear with me if there are some shaky shots in my demo short film. I can guarantee you, it's not the camera, it's me :-).
As far as handling and workmanship of the 550D are concerned, there are of course differences to the 7D (they have to start somewhere!). The form factor is exactly the same as on its not-quite-HD-shooting predecessor, the 500D, and it has the same "plasticky" feel to it. There is no weather proofing like on the 7D, and it is considerably lighter (which is not particularly a good thing for steadiness). The 7D is 820 grams body-only, while the 550D weighs only 475 grams. That's almost half the weight!! So don't take a leaf out of my book and get some good support for shooting with this camera!
The menu button layout is somewhat different from the 7D, but still quite comfortable for filmmakers. You have to switch to movie mode using the upper dial, Live View automatically turns on. The Live View button right next to the screen is therefore becoming the record button in movie mode. It is on the exact same position as the movie switch on the 7D.
Contrary to the other cameras, the 550D records to SD and SDHC cards. Which is great for me, because I have a legion of Transcend 16 GB Class 6 SDHC cards
from my EX3 lying around. At first we used the camera with a 4GB SanDisk Class 2 SD card, which is supposed to be too slow to stomach the constant video bitrate – however, quite strangely, we were able to shoot without interruptions. We changed to a 16 GB Class 6 SDHC card
quickly though, because we didn't want to risk any video corruption.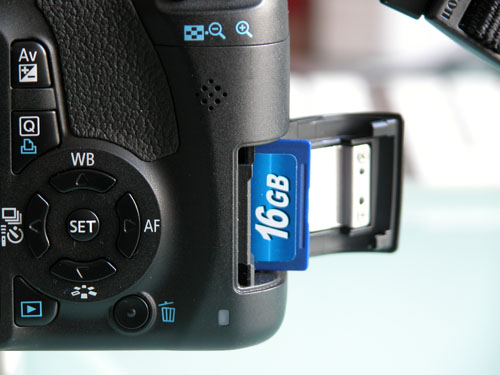 Personally, I think this camera will be another game changer, making "the film look" a ubiquitous commodity. Of course, cheap gear won't create good filmmaking skill, but now even more young and aspiring filmmakers will have access to these tools, which will enable them to train their skills at an earlier age just because of the low price of the camera.
Quite oddly, you can now hear the huge broadcast accessory industry moan – their prices haven't really dropped much despite comparatively cheap HDSLRs have been available for a while now, and they keep saying that good quality has its price. That is of course true – but it is also true that producing in higher volumes would enable them to drop prices significantly in most cases, reaching a much wider audience. In the end this will most likely also lead to much higher profits. It's unjustifiable to go out, buy and stick a loupe for half the price of the camera itself onto the 550D. This is not simply not sustainable and most of the 550D buyers won't even consider buying one.
These companies should look at what Canon themselves are doing: They are giving their entry-level DSLR the very same video features as its big brother, the 7D. They sure will make tons of money of it. The lower the price, the more people will be able to afford it – and most of these future buyers wouldn't ever have bought a $1.700 7D for sure. Just my 2¢ on that whole accessory prices matter.
My verdict is simple: BUY THIS CAMERA. For this price, I can hardly think of any reason not to get the Canon 550D / Rebel T2i. And if you already have a 5D or 7D, this is the perfect back-up camera.
I pre-ordered mine already, and I think it will sell like hotcakes – I do think they will definitely run out of those quite early if the demand is as high as I think it is!!
If you plan on buying the 550D / Rebel T2i and want to support this blog in order to keep those reviews coming, I'd appreciate it if you buy through one of these Amazon links (US store, UK store and German store). Greatly appreciated!!!
EDIT:
Upon popular request, I have uploaded a short RAW FOOTAGE CLIP straight off the camera, you can download it from here:
http://www.megaupload.com/?d=X46QO1ON
Also, I did a ROLLING SHUTTER TEST that you can watch right here:

As you can see, it's really bad – which is unfortunately perfectly normal for cameras with a CMOS chip and HDSLRs in particular.
PHOTOGRAPHY with the 550D / T2i:
And for those also interested in taking PHOTOS with this camera (like me), here are some samples in full resolution (converted from RAW – can't post the RAWs just yet because you won't be able to open them in any editor, the format is too new!):
EDIT:
Orange Wedding Films put up a side-by-side comparison between the video mode on the 7D and the T2i / 550D:
Philip Bloom compared low light capabilities of the 7D and T2i / 550D:
Check out Philips blog for his further thoughts on the new camera.
It's great that my test film "FEBRUARY" was featured on Engadget – thank you all for the overwhelming response!!